The color of valor: 24 minority veterans receive overdue Medal of Honor
Only three of them are still alive; they served in WWII, Korea and Vietnam
Chelsea J. Carter and Halimah Abdullah | 3/19/2014, noon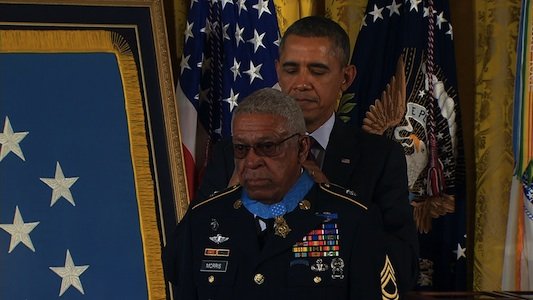 CNN — If not for the hue of their skin or their ethnicity, 24 soldiers who faced death in service to their nation would have received the most prestigious medals for their valor long ago.
But they were born and fought in a time when such deeds were not always fairly acknowledged.
On Tuesday, the U.S. government corrected the oversight.
President Barack Obama honored 24 Army veterans with the Medal of Honor -- the country's highest military award, given to American soldiers who display "gallantry above and beyond the call of duty " -- for their combat actions in Vietnam, Korea and World War II.
"No nation is perfect, but here ... we confront our imperfections and face a sometimes painful past, including the truth that some of these soldiers fought and died for a country that did not always see them as equal," Obama said.
Only three of the soldiers are alive to receive the recognition.
The rest -- soldiers with last names including Garcia and Weinstein and Negron -- are dead.
Of the 24 honored, 10 never came home. The body of one -- Cpl. Joe Baldonado -- has never been recovered, Obama said.
For the few who survive, such as Melvin Morris, this day has been more than 40 years in the making.
He was fresh-faced and 19 when he volunteered to go to Vietnam. In 1969, the Army Green Beret "charged into a hail of fire" to save his injured comrades and retrieve the bodies of the fallen, even though he was shot several times and bleeding. The Army would later say his actions on the battlefield that day showed "determination possessed by few men."
"The staff sergeant recovered a fallen comrade ... and took out several bunkers even after he was shot several times," Obama said.
He was honored in 1970 with the Army's Distinguished Service Cross award.
Today, at age 72, Morris -- who is African-American -- received his nation's most esteemed military honor.
"It makes me very proud that they are going back and looking at records," Morris told CNN.
But it was never about a medal for Morris, who joined the Army in 1959.
On September 17, 1969, he was on a search-and-destroy mission with his company when he learned the commander of another company nearby had been killed.
"Immediately it came to me that I had to recover his body," Morris said. "...Leave no man behind under any circumstance."
Morris was shot three times -- in the chest, arm and left ring finger -- as he carried the casualties out of the line of fire. He was then trapped in the firefight.
"The only thing I could do is fight, to hope I could get out," he said.
And fight he did.
He was later evacuated from the battlefield. Less than a year later, he returned to duty in Vietnam where he would be decorated again for his actions in combat.
There are others too.
Men like Santiago J. Erevia, a radiotelephone operator from Texas who in 1969 tended injured comrades in Vietnam's Quang Tin province when his position came under attack. According to the citation, Erevia took out three machine gun bunkers with grenades and gunfire. He then returned to care for his wounded comrades, crawling from one wounded man to another to administer aid.