Paul's Place program shapes lives of Southwest Baltimore youth
Ursula V. Battle | 3/28/2014, 6 a.m.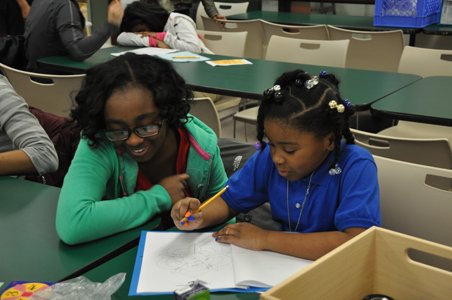 continued — She added, "We have had the program for 30 years now. Some of the outcomes are that some of our students in the middle school program have gone on to prestigious high schools such as Loyola Blakefield on full scholarships, while all of our high-school students have gone on to college, into the service, or into a career. That is pretty astonishing."
According to Smith, in addition to the students, tutors also come from the University of Maryland School of Law, and commit one hour a week to work with the students.
"They are able to build relationships with our students and be a good role model for them as adults," said Smith.
Christan Morley is the Elementary Program Coordinator.
"The kids hold each other accountable for each other's attendance, behavior, and academics. With the elementary program, the kids look at the mentors as their role models. This encourages them to be mentors. We have high expectations. They are meeting them which is great."
Paul's Place also operates the "Summer Outreach Camp for Kids" (SOCKS), which helps to expand the horizon of at-risk students. The summer camp works with children in the community for eight weeks, providing them with wholesome, fun activities and memorable experiences.
For more information about these and other Paul's Place programs, visit: www.paulsplaceoutreach.org