College of Southern Maryland guides juvenile offenders to jobs, stability
5/2/2014, 6 a.m.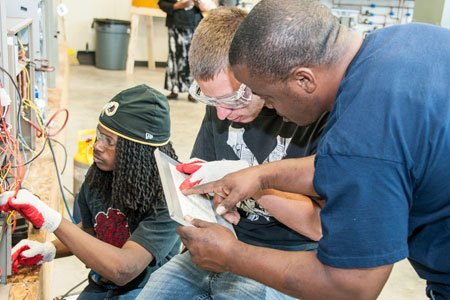 College of Southern Maryland (CSM) HVAC Instructor Shawn Richardson watched silently as his students methodically manipulated wires and connections in the air-conditioning control boxes to look for anything out of place or missing. When a passerby noticed a wayward fuse on the floor, Richardson said, "No, leave it there. If they were on a job, they'd have to account for it in order for the unit to work properly."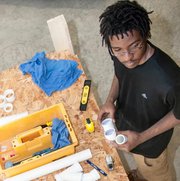 As the six-month training nears its end, Richardson is testing his students. He purposely breaks the heating, ventilation and air conditioning (HVAC) training units to evaluate students' ability to troubleshoot.
Troubleshooting and fixing problems aren't new to HVAC student Rashad Bonner, 19, of Lusby, who not so long ago was himself evaluating the direction he was headed in life.
"I used to get into a lot of trouble. I saw everyone else around me advancing with their lives and [I wasn't] even sure what I wanted to do. I [felt] that there was no point in fighting, in the end you always lose," Bonner said about school suspensions and an incident that landed him in the juvenile justice system.
Evaluating his choices last fall, Bonner readjusted his course and applied to CSM's Juvenile Offenders Building Skills (JOBS) program. Now, he, along with nine other students trained in HVAC and plumbing through CSM's Center for Trades and Energy Training (CTET) in Waldorf, will complete the program, graduate and start a new career in the local construction workforce.
Juvenile Offenders Building Skills (JOBS) Program The JOBS program serves young adults 18 to 21 years old who have been involved in the juvenile justice system at some point during the ages of 14 to 18, have no serious offenses and have never been convicted as an adult. Program applicants must be recommended by the Maryland Department of Juvenile Services, must have an interest in plumbing or HVAC and must commit to remaining in the six-month program until completion.
The program has a high staff-to-student ratio of 5:1, which includes CSM JOBS Director Robert Manley, two trades instructors, a case manager and a jobs developer. JOBS program participants complete 500 hours of classroom and lab training in either plumbing or HVAC and receive three months of follow-up employment services for a total commitment of nine months in the program. Career readiness and soft skills training are woven into classroom instruction. Employability training in resume writing, interviewing, professionalism and workplace communication caps off the instruction.
"The credentials that students receive are HVAC-Level 1 and Plumbing-Level 1 which are the equivalent of one-year apprenticeship instruction that they will have under their belts when they complete our program," Manley said, adding that this credential, through the National Center for Construction Education and Research, is accredited and recognized industry-wide throughout the country.
By the end of the program, students will also earn the OSHA (Occupational Safety and Health Administration) 10-hour safety certification and an American Red Cross CPR and first aid certification.
The college became involved in the program when conversations at CSM's Charles County Advisory Council included concerns from community partners about the area's uneducated and unemployed young adults and how the college could provide young people with marketable skills at CTET. This led to the college preparing a Department of Labor grant proposal to train young ex-offenders.