College of Southern Maryland guides juvenile offenders to jobs, stability
5/2/2014, 6 a.m.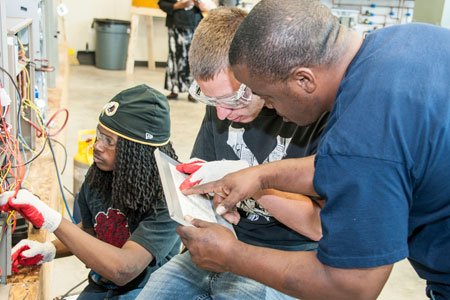 Funding for the program which is a collaboration between the college and 40 strategic partners from Calvert, Charles and St. Mary's counties is provided through a $1.5-million grant from the U.S. Department of Labor. The program serves young adult ex-offenders with job training, service learning and job placement services while building self-esteem, reinforcing positive workplace behaviors and building a strong work ethic. Community service is built into the program, with students spending two Fridays a month assisting local nonprofits with HVAC, plumbing and other needs.
D'Andre Gross, 18, of Owings, requested 20 invitations for friends and family for the JOBS Graduation Ceremony to be held May 8, 2014 at the college's Center for Business and Industry. Bonner and Kenneth Cain, 18, of Indian Head, will have smaller groups in attendance. Regardless of the numbers cheering them on, all the students feel a great sense of personal accomplishment.
"I enjoyed the hands-on aspect of the training and how we could focus on one subject, one thing until it was mastered," said Cain, who will be the student speaker at graduation. "It was challenging getting the right measurement on each pipe and calculating the 'take-off,'" he said of his experience working with PVC pipe during installation in the plumbing training facility.
"I was frustrated a lot at the beginning of the program but I was determined. It was a horror of nightmares until I learned to read schematics," said Bonner.
"I like trying new things and feeling satisfaction in doing things the right way. I even learned carpentry," said Gross. He added that working in the plumbing lab was more like a real job environment.
Gross, Bonner and Cain are high school graduates, but that is not the case for everyone enrolled in the JOBS program.
"Many of these young men did not attend their high school graduation ceremonies. This ceremony will mark completion of a tough program and the commencement of a new chapter in their lives. A requirement for admission into the program is a desire to advance academically and many of these students are well on their way to completing their GEDs
(general education development)," said CSM Vice President of Continuing Education and Workforce Development Dr. Dan Mosser.
"It takes local government, nonprofits, employers and educators— it's the whole village concept," said Mosser on the reliance on partnerships for the program to succeed. "We have honed in on the qualities needed for success in this program. "Our overarching goal is to teach these young men a trade to help them along their pathway to a career and a liveable wage."
As Richardson's students learned in troubleshooting there is a sequence to follow. They also learned there is a sequence for success in life.