7 things mom didn't tell us about going gray
A mom who decides to embrace her gray hair rather than dye it can influence her daughter
Emanuella Grinberg | 5/8/2014, noon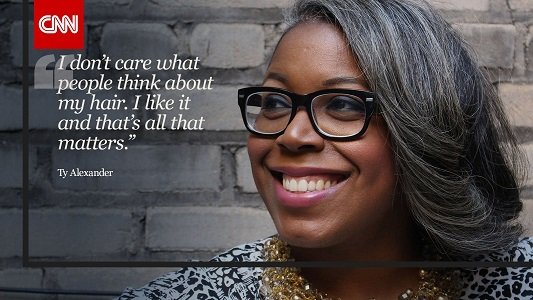 continued — It's cheaper than being a "slave" to the stylist
Pissarra didn't pay much attention to her grays as they started coming in in her 20s. But when the odd strand turned into streaks, her stylist gave her an ultimatum.
"She said, 'You have to decide right now. You either start coloring now, or you never start, because after you start you become a slave to it,'" Pissarra recalls.
It was an easy decision for Pissarra, who didn't wear much makeup or do much with her hair to begin with. Her hair was healthy, so why mess with it?
"At first it was more of a financial and practical thing. I thought it would be reasonable for me," she said. "Then I started reading about chemicals and stuff and realized I didn't want all that in my head."
You can still play around with products and styling
Alexander's hair has been through just about every style and color since she began experimenting with her look at age 14. By the time she reached her mid-20s, her hair was getting brittle from all the experimentation.
By then, the gray streaks that her parents passed on had become visible. She decided to stop coloring before her hair fell out, but that didn't mean she had to stop experimenting.
Alexander tries different shampoos, conditioners and DIY remedies to keep her color from getting dull or brassy. Her go-to method is a mixture of peroxide, water and conditioner to strip product from her hair and keep the color bright.
You've earned them!
It's all about perspective, and those who embrace their grays often see them as badges of honor that reflect experience and wisdom accumulated over the years.
"Obviously part of it is genetics, but I also feel like it's part of who I am," said 49-year-old Marya McCabe, who stopped coloring her hair in her early 30s.
Three years ago, the married mother of two left Microsoft after more than a decade to start her own consulting firm. She thinks her gray hair lends "credibility" to her background, both personally and professionally.
"I really see my gray hair as a representation of my experience," she said. "I did something to earn these grays."
For Kelly Barrows, her first few grays validated the stress she felt from motherhood. Barrows suffered from postpartum depression after the birth of her first child, though she didn't realize it at first. She was overwhelmed by the new responsibilities and anxious over losing her identity, but struggled to see it as something more than "run-of-the-mill" experiences of any new mother.
"To come out of it gray-haired is affirming that the stress is real and that the struggle is real," Barrows said. "I have real visual evidence to show that it's been hard. It wasn't in my head or invented."
It makes you stand out
Apart from her silver sheen, McCabe considers herself pretty average for a Seattle woman; she skips makeup and wears jeans on most days.
"I'm very vanilla in every other way, but my hair makes me unique," McCabe said. "My hair makes me stand out physically and because I've chosen to do something different it has become sort of an identifier for me."