Sterling asked: What has Magic Johnson done? Answer: Quite a lot
His foundation has raised millions
Ed Payne | 5/14/2014, 6 a.m.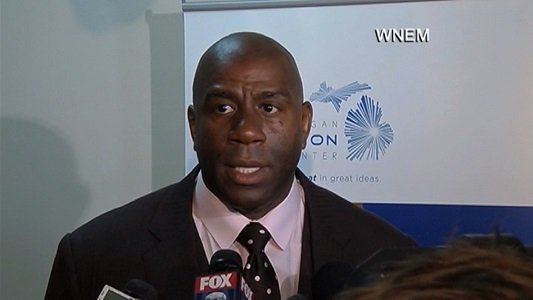 (CNN) — Perhaps the oddest part of Donald Sterling's interview with CNN's Anderson Cooper was the way he unloaded on Magic Johnson.
It was the second time in about a month that the owner of the Los Angeles Clippers launched into tirade against the NBA Hall of Fame point guard, entrepreneur and philanthropist.
In the recorded conversation that earned Sterling a lifetime ban from the NBA, he was caught telling friend V. Stiviano that he doesn't want her posting pictures with African-Americans, including Johnson.
In Monday night's CNN interview with Anderson Cooper, he went farther -- much farther.
"What has he done? Can you tell me? Big Magic Johnson, what has he done?" he said, turning the question on the CNN host. "He's got AIDS. Did he do any business, did he help anybody in South LA?
"What kind of a guy goes to every city, has sex with every girl, then he catches HIV? Is that someone we want to respect and tell our kids about? I think he should be ashamed of himself. I think he should go into the background. But what does he do for the black people? He doesn't do anything."
So, let's ask the question: What has Magic Johnson ever done?
As it turns out, quite a bit -- and he's been doing them for a long time.
He won championships
For more than three decades, Earvin Johnson has had the "Magic" touch.
He led Michigan State to a national title in 1979 before going first in the NBA draft and winning the championship with the Los Angeles Lakers during his very first year in the league.
The paycheck was nice too. Johnson signed a 25-year deal for $25 million. It was the longest and highest-paying gig in sports at the time.
In 13 seasons with the Lakers, he racked up five NBA championships and three MVP awards. And don't forget the Olympic gold medal in 1992 as a part of the "Dream Team" -- the first year pro players could take part.
Nine months earlier, Olympic gold seemed like anything but a dream.
He helped change attitudes about HIV/AIDS
When Johnson announced he was HIV positive and retiring from the Lakers in November 1991, it sounded more like a death sentence -- so little was known about the disease at the time.
But he helped change America's attitude toward the disease.
In an interview with Cooper in November, he described himself as "the blessing and the curse of HIV."
"I'm the blessing because people were talking about it, they ran out and got tested at that time," he said.
"Then I'm the curse because...people now say, oh well, HIV is nothing because if I get it I can be like Magic. He's doing good, and I can do the same thing he's doing or take the same medicine he's taking and I'll be okay."
"But what they don't understand," he added, "in 22 years, millions of people have died."