Candi Staton has the blues but she's not sad about it
5/23/2014, 1:56 p.m.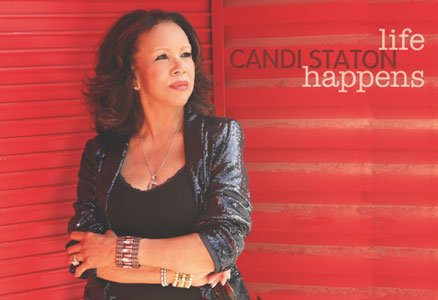 In her six-decade career Grammy Award nominated singer Candi Staton has dabbled in country, blues, gospel and dance music. Her 27th CD "Life Happens" (Beracah/Fame Records) combines all of those elements on the 14-song set. USA Today's Brian Mansfield recently referred to the project as vintage Muscle Shoals soul and The Minneapolis Star Tribune's Jon Bream wrote of the project that, "The veteran R&B star delivers a smart and often sassy concept album about romance, featuring timeless Southern soul with such modern references as BFFs and surfing the Internet."
Apparently, fans love it because "Life Happens" has debuted at #2 on the iTunes Blues chart and #36 on the Americana music chart. Blues radio formats have tapped into the bass-funky groove of "Beware, She's After Your Man" and the raw tirade on a cheating man, "Three Minutes to a Relapse." Staton laughs about the success of the new project. "All of these songs are about some aspect of life," the Atlanta resident adds. "I've been in love. I've been cheated on and I've been divorced - all of that. You don't plan for these things to go awry when you start dating but they just happen. That's why I named the CD Life Happens."
The new project is the first non-gospel album that Staton's ever released on her own Beracah Records label. "At this point in my life very few companies want to take a chance on a CD by someone who is not a teenager anymore," she says. "So God told me to invest in myself and that's what I've done and so far, so good. I'm in a good place and the happiest I've been in years." Fans can keep up with Staton online at www.candi-staton.com.