Legendary author Maya Angelou dies at 86
Faith Karimi. Ashley Fantz and Moni Basu | 5/28/2014, 12:27 p.m.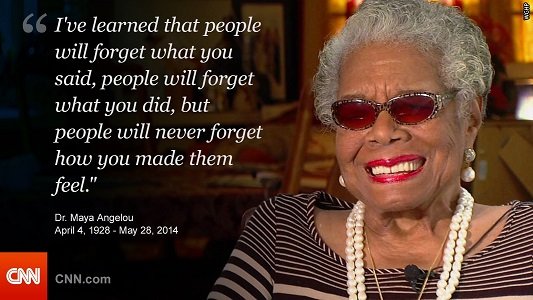 (CNN) — A literary voice revered globally for her poetic command and her commitment to civil rights has fallen silent.
Maya Angelou died at her home in Winston-Salem, North Carolina, on Wednesday, said her literary agent, Helen Brann.
The 86-year-old was a novelist, actress, professor, singer, dancer and activist. In 2010, President Barack Obama awarded her the Medal of Freedom, the country's highest civilian honor.
One of Angelou's most revered books was "I Know Why the Caged Bird Sings."
The memoir bore witness to the brutality of a Jim Crow South, portraying racism in stark language. Readers learned of the life of Marguerite Ann Johnson (Angelou's birth name) up to the age of 16: how she was abandoned by her parents, was discriminated against in rural Arkansas, was raped by her mother's boyfriend, lived on the streets and gave birth as a teenager.
It's publication was both daring and historic given the era of its debut in 1969.
"All of the writers of my generation must honor the ground broken by Dr. Maya Angelou," author Tayari Jones posted on her Facebook page Wednesday.
"She told a story that wasn't allowed to be told," Jones said. "Now, people tell all sorts of things in memoir, but when she told the truth, she challenged a taboo -- not for shock value, but to heal us all."
Black American novelist Julian Mayfield is said to have described the autobiography as "a work of art which eludes description."
"I Know Why the Caged Bird Sings" was an international bestseller and nominated for a National Book Award in 1970. In six other autobiographical books she subsequently penned, Angelou revealed myriad interests and occupations of her life.
Angelou spent her early years studying dance and drama in San Francisco but dropped out at age 14.
When she was 16, Angelou became San Francisco's first female streetcar driver.
Angelou later returned to high school to get her diploma. She gave birth a few weeks after graduation. While the 17-year-old single mother waited tables to support her son, she developed a passion for music and dance, and toured Europe in the mid-1950s in the opera production "Porgy and Bess."
In 1957, she recorded her first album, "Miss Calypso."
In 1958, Angelou become a part of the Harlem Writers Guild in New York and played a queen in "The Blacks," an off-Broadway production by French dramatist Jean Genet.
"I created myself," Angelou once said. "I have taught myself so much."
Affectionately referred to as Dr. Angelou, the professor never went to college. She has more than 30 honorary degrees and taught American studies for years at Wake Forest University in Winston-Salem.
"Maya Angelou has been a towering figure -- at Wake Forest and in American culture. She had a profound influence in civil rights and racial reconciliation," Wake Forest University President Nathan O. Hatch said Wednesday. "We will miss profoundly her lyrical voice and always keen insights."
Angelou spoke at least six languages and worked as a newspaper editor in Egypt and Ghana. It was during that time that she wrote "I Know Why the Caged Bird Sings," the first in a series of autobiographical books.