Blacks drowning in swim help
Jazelle Hunt | 5/29/2014, 9:48 a.m.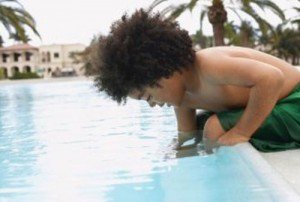 WASHINGTON (NNPA) — In the two weeks leading up the to unofficial start of summer, reports of accidental drowning deaths had already begun, including at least three victims under the age of four, and a 21 year-old Grambling State University senior, Alexandria Shelton.
Like clockwork, a lack of water safety resurfaces each year – especially for African Americans.
African Americans over the age of four are significantly more likely to drown than White Americans. Black children ages 5 to 14 —70 percent of whom can't swim—are three times more likely than White children to drown. That doubles to six times as likely when teens are added to the picture.
And swimming pools can be particularly deadly—Black youth ages 5 to 19 are more than five times as likely as Whites to drown there. For Black 11 and 12 year-olds, that figure doubles.
"This is the first report to examine racial/ethnic disparities in fatal drowning rates by age and setting. The disparity increased when only drowning deaths in swimming pools were considered," states the CDC research, released last week. "The disparity in self-reported swimming skills among black children and adults might help to explain the disparity in drowning rates."
Scholars have found that the disparity is a remnant of segregation, and result of contemporary neglect on the part of city officials.
Swimming became a national pastime in the 1920s and 1930s and again in the 1950s and 1960s. Segregation kept African Americans out of the water (including public beaches). Public pools were then closed to sidestep desegregation, and the swimming boom moved to the suburban private pools and clubs.
At the same time, White neighbors and/or economic factors pushed African American families further inland, away from valuable coastal communities. Finally, public facilities that were opened in Black communities in the 1960s and 1970s were often too small or too grimy for swimming.
Jeff Wiltse, author of Contested Waters: A Social History of Swimming Pools in America and explains the problem in his latest article in the Journal of Sport and Social Issues.
"As a result of limited access…swimming did not become integral to the recreation and sports culture within African American communities. Successive generations of White parents took their children to swimming pools and taught them to swim, because that is what they did as children," he writes. "No such broad, self-perpetuating swim culture developed among Black Americans, however…. In this way, the swimming disparity created by past discrimination persists into the present."
Today, this generational effect, plus the allotting of public resources, plays a larger role in whether Black communities learn water safety.
In 2010, Cedric Troupe, founded the East Oakland Swim Club to "restore the culture of swimming" in the Oakland area African American community, especially for young people.
"Growing up in Oakland or in the San Francisco Bay area, when we were young we used to go to the swimming pool and have fun. Our generation is failing the younger generation," he says.
Troupe, a lifelong swimmer, took up the cause of advocating for Oakland's high school and recreation center pools when he realized his alma mater pool at Castlemont High School had fallen into disrepair. (In 1976, its swim team won the Oakland Athletic League Championship. It's said that students had to swim a lap of the pool as a diploma requirement).