Blacks drowning in swim help
Jazelle Hunt | 5/29/2014, 9:48 a.m.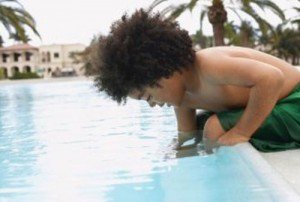 continued — "We have a number of obstacles for people of color…and the first part is facilities. Our kids have to travel 8 to 10 miles to swim," Troupe explains. "We're coming into summer 2014 and we had a 90-degree day just last week, yet these pools are not available for the children."
Even in communities where access isn't a problem for Black youth, there's often one more barrier – their parents.
As the USA Swimming Foundation reports, children whose parents can't swim have a 13 percent chance of learning to swim themselves. A parent's inexperience with or outright fear of water often gets passed down, perpetuating the problem.
Miracle Swimming Institute, based in Sarasota, Fla. (with satellite sites around the country) caters to adults who are afraid in water. Mary Ellen "Melon" Dash, founder of the institute and creator of its methods, asserts that almost all of her students have at least one parent who is afraid in water (a thread that's even more common than traumatic childhood experiences).
"We go to the community center to give free classes, and we find children who have never been to the beach even though it's just five miles away. And when we offer to take them, [parents] put up a lot of resistance because they don't know how we can make it safe for their children," Dash explains. "[Adults] know that not only are they missing out on the fun, but they're not safe in water. There's so much shame about not being able to swim…but people need to know it's perfectly understandable."
On the other end of the attitude spectrum, some overestimate their water competency.
The Red Cross measures water competency by proficiency with five tasks: getting into the water over one's head; returning to the surface and floating or treading water for one minute; turning around in a full circle and finding an exit; swimming at least 25 yards to an exit; and exiting the water (without a ladder if in a pool).
These are the necessary skills for surviving a water emergency. In a national survey conducted last month, the Red Cross found that 80 percent of respondents said they could swim, but only 56 percent felt they could complete all five tasks.
According to aquatics trainer and advocate, Dr. Angela Beale, many people hold inadequate ideas on what it means to be able to swim.
"If I can't perform basic skills in terms of water safety, now I have to put that in context of whether I can swim. I have to ask myself, 'Well enough to save my life?'" she explains. "Some swimmers overestimate their ability, especially in different bodies of water. The minute you say 'I know' is the minute you stop learning."
This year, the Red Cross is commemorating 100 years of water safety education with a Centennial Campaign to teach 50,000 people how to swim. The campaign also seeks to cut the national drowning rate in half over the next three to five years by targeting 50 cities across 19 states with high drowning fatality rates. (Florida tops the list, with 18 selected cities).
Incidentally, some of the selected cities have large Black populations. In these cities—such as Birmingham, Jacksonville, and Memphis—both the overall drowning rate and the African American drowning rate are higher than the national average.
"I think a large contributor to the drowning disparity truly is a lack of knowledge in seeing aquatics as a life skill. You can save your own life, as well as someone else's," says Beale, who also serves on the Aquatic Sub Council of the Red Cross' Scientific Advisory Council.
"I hope that everyone would find out where they can access swimming programs…and that every family will make sure that at least one person can swim, until eventually, everyone can," Beale says. "But make it a priority moving forward—not just for this summer."