Junior League of Baltimore elects first African American president
5/30/2014, 6 a.m.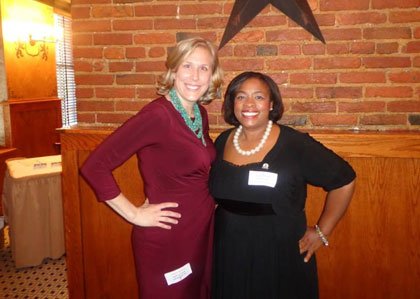 BALTIMORE — Cylia E. Lowe, Esq. was recently installed as the President Elect of the Junior League of Baltimore making her the first African American woman elected to that position in the organization's 102-year history. In 2015 she will automatically ascend to the role of president.
Lowe joined the Junior League over six years ago after being encouraged by her Alpha Kappa Alpha sorority sister who joined a few years prior. As a native New Yorker, Cylia had heard of the Junior League; which was founded in New York City in 1901 by a young and very wealthy socialite Mary Harriman Rumsey. Inspired by a lecture on the Settlement Movement, Harriman mobilized a group of 80 other young women, hence the name "Junior League," to work to improve child health, nutrition and literacy among immigrants living on the Lower East Side of Manhattan.
After attending an open house event, meeting members and learning more about the organization, Lowe became interested in membership but due to other commitments decided not to pursue membership at that time. However, after receiving a hand written note from the membership chairman encouraging her to become provisional member and join the League she decided she should do it. Lowe saw the organization as an opportunity to further develop her leadership skills and meet new like-minded women she may not have met otherwise.
During her tenure she has served as a mentor for the longest running direct community service project; the Wise Penny's Women's Internship program. This community outreach focuses on mentoring four qualified women within the community through two 12-week internship cycles (one fall, one spring) at the Junior League owned Wise Penny Thrift Store. Throughout the program, the interns receive on-the- job training in store management, sales, inventory, and customer service as well as one-on-one mentoring to help them set their goals and achieve them. The mentoring of the interns toward personal career goals will be provided by the Mentor.
Cylia then went on to chair the Wise Penny Internship program twice and served on the board as the secretary. Most recently she has served as the membership vice president where she initiated the "Lean In: JLB Membership Pipeline Program." Inspired by the book "Lean In" by Sheryl Sandberg Cylia kicked off the program at Morgan State University with their Leading Women's group where she along with several other Junior League members discussed professionalism, the importance of networking, and the history as well as benefits of membership in the Junior League. A similar program was held at Towson University where members and other volunteers discussed a variety of topics with soon to be graduates including salary negotiation, mentoring, and giving back to the community.

In 2015 Cylia will follow in the historic footsteps of her sorority sister, Deborah Brittain, who in 2001 became first African American president of the Association of Junior League's International which was made her the first African American woman to be elected in the organization's 100 years.

Cylia is an attorney and was recently awarded as a 2014 Maryland Top 100 Women.
She is excited to carry on the tradition of the Junior League as they continue to impact their communities, tackling emerging issues such as human trafficking, cyber-bullying and childhood obesity.
The Junior League of Baltimore, Inc. is an organization of women committed to promoting volunteerism, developing the potential of women, and improving communities through the effective action and leadership of trained volunteers. Its purpose is exclusively educational and charitable. The Junior League of Baltimore, Inc. reaches out to women of all races, religions, and national origins who demonstrate an interest in and commitment to voluntarism.
The Junior League of Baltimore Inc. values the power of voluntarism, the diverse community in which we live, the talents, commitment, and contribution of our members, and our history of community impact and involvement.