CSM Disability Services help students overcome obstacles
11/12/2014, 6 a.m.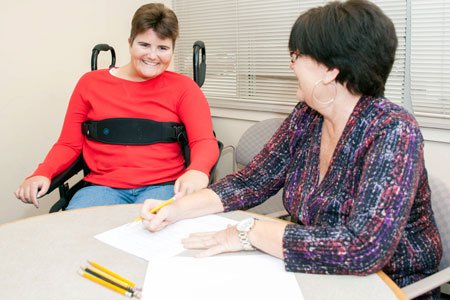 Imagine facing your first algebra exam where numbers are combined with letters and symbols on top of each other and divided by lines. Solving the problem requires working from the left and the right sides of the equation.
Now, imagine you are facing the same exam except you are blindfolded and your hands tied behind your back. That's how College of Southern Maryland student Jamie Cusick, of Hughesville, whose sight, mobility and hearing are impaired experiences math.
Born with a genetic neuromuscular disorder called Friedreich's Ataxia (FA), Cusick's mobility, sight and hearing have deteriorated over the years, but not her determination. She uses a wheelchair and is guided through her academic studies by her parents, CSM Disability Support Services Associate Director Glennis Daniels-Bacchus and a team of support staff including scribes, faculty and at times external resources such as Columbia Lighthouse for the Blind (CLB).
"Jamie is determined," said her mother Cheryl Cusick.
At the core of that determination is a will to graduate and to honor Ed Schauf, a former CSM criminal justice program coordinator who died from cancer in 2011.
"He encouraged me to go to college and I am trying to graduate to honor his memory," Jamie Cusick said of Schauf.
"Ed told her 'Don't let being in a wheelchair stop you from attending college,'" Cheryl Cusick said. As the faculty sponsor of the Criminal Justice Club on campus, Schauf had invited Jamie Cusick to come to a meeting— she eventually became the club's president, Cheryl Cusick said.
For Jamie Cusick, her symptoms of FA began showing up when she was seven and by the time she turned 11, she was unable to walk. Her condition was misdiagnosed until a blood test confirmed FA in 1996 when she was an 18-year-old high school student. Her father is a retired police officer and Jamie wanted follow in her father's footsteps by studying criminal justice but there was a question as to Jamie's ability to pursue the field as a career. The notion of not attending college was put to rest by Schauf, a family friend who encouraged her to follow her dream.
In high school and the first years of college, Jamie Cusick did not require a lot of assistance in class or in completing schoolwork. When she had difficulty holding a pencil, a scribe would take notes for her in class. She moved from face-to-face to online courses in 2006, partly for convenience and partly due to her body's vulnerability to colds and flu. When her eyesight began to fail, information was transcribed and recorded. Now, bilateral auditory neuropathy is restricting her ability to process sounds in order to understand voices that are deep in tone. None of this has stopped her progress.
Cusick is not alone in her desire to accomplish a higher education goal.
According to the U.S. Department of Education's National Center for Education Statistics, for the 2007-08 academic year, nearly 11 percent of undergraduates enrolled in postsecondary institutions were classified as students with disabilities. The Americans with Disabilities Act (ADA) of 1990—celebrated in the month of October—provides protection against discrimination based on disability and requires educational institutions receiving federal funds to provide accommodations, services or assistive technology to students with disabilities, like Jamie Cusick.