Anthony Levine's hard work and opportunity a recipe for success
Turron Davenport | 11/14/2014, 6 a.m.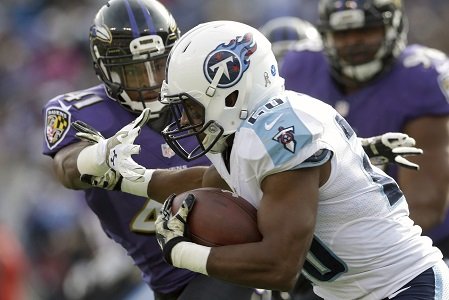 BALTIMORE — The Baltimore Ravens may have found some help for the cornerback position during their win over the Tennessee Titans before entering the bye week. Surprisingly, defensive back Anthony Levine was named the starter opposite veteran Lardarius Webb. This decision was unexpected because Levine spent most of his time on special teams and playing safety. Levine made the most of this opportunity, which shouldn't come as a surprise because he has been a scrapper throughout his tenure in the NFL.
Tennessee State University isn't exactly a football factory, although one of their players, Claude Humphrey was inducted into the Pro Football Hall of Fame this past summer. Anthony Levine was not guaranteed a spot on an NFL roster like some players who are drafted from big time schools. He was signed by the Green Bay Packers as a rookie free agent in 2010 and spent most of the next two seasons on the practice squad.
The Ravens signed Levine to the practice squad in September of 2012. He was added to their active roster the day before the game against the Pittsburgh Steelers on November 18, 2012. In that game against the Steelers, Levine got his first taste of what it's like to actually play in an NFL game. He saw time as part of the special teams unit. Levine recorded his first tackle as a part of the special teams a week later against the San Diego Chargers. Unfortunately, a shoulder injury landed him on injured reserve.
Levine came back in 2013 and has carved a niche as a special teams ace. He was second on the team with 11 special teams tackles. Being productive on special teams requires a lot of work. Players have to run down the field full speed multiple times in practice. It requires that a player have no fear on the football field and especially so on coverage units. Some of the most violent collisions occur on kickoff and punt coverage.
Playing special teams was Levine's ticket to making the active roster but his versatility in being able to play both safety and corner is really what made him valuable. He worked hard to put himself in a position that would make the coaches have to let him see the field on defense. An early injury to Webb, Chykie Brown and Asa Jackson allowed Levine to get a look at corner during the preseason. He continued to work hard and to be prepared to step up not only on special teams but on defense as well.
The injury bug struck the Ravens cornerbacks again as Asa Jackson was already on injured reserve and Jimmy Smith joined him. The Ravens were not happy with the subpar play from Chykie Brown or Dominique Franks so they were released. The table was set for Levine.
Head coach John Harbaugh approached Levine on Sunday morning to find out if he was ready to take out. He asked Levine what his game plan was. Levine had the perfect answer. "I told him, 'I'm going to compete coach'" Levine said. Levine must have said the right thing because Harbaugh told him that he would be the starter.