Tips to get your home and business ready for winter
How to save energy on even the coldest days
11/18/2014, noon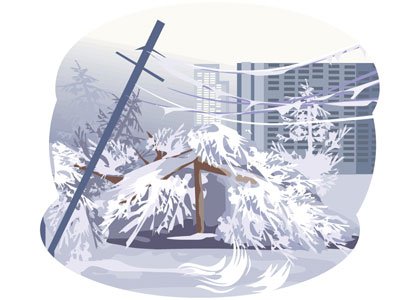 BALTIMORE — As temperatures dip and the colder winter months quickly approach, Baltimore Gas and Electric Company (BGE) has completed several infrastructure enhancement projects and a comprehensive review of its natural gas and electric systems in advance of the winter heating season.
Just as BGE prepares in advance for the winter heating season, the company encourages all customers to prepare their homes and businesses for the colder winter months as well. Customers may visit: www.bge.com/WinterReady for tips and information on saving energy, even on the coldest days. Customers can also find information about "winterizing" their homes and preparing their families for the winter heating season. BGE offers customers a variety of low-to-no-cost ways to make their homes more energy efficient, saving energy and money.
"During the colder months, heating systems typically account for more than 40 percent of customers' energy bills because extreme weather generally triggers significant increases in energy use at home," said Carol Dodson, vice president and chief customer officer for BGE. "Even when the thermostat is kept at the same temperature, heating units must work harder to maintain the set temperature. Without taking steps to save energy during these times, energy bills will reflect additional usage and will likely be higher than in months when temperatures are more moderate. We encourage all customers to think about simple steps they can take in their home to save energy each day, no matter the temperature outside."
Customers who heat with older model electric heat pumps are especially vulnerable to sharp increases in usage when auxiliary heating is activated during cold weather. Customers are encouraged to set the thermostat to 68 degrees or lower. For every degree below 73 during the colder months, customers may save two to four percent on heating costs. Customers who heat with natural gas should consider setting the thermostat to 68 degrees during the day and 65 degrees at night.
The WinterReady section on bge.com is specifically designed to help customers weather the cold temperatures that affect central Maryland each year. The following are steps that all customers can take to reduce energy consumption and lower heating bills:
*Manage your thermostat. Consider a programmable thermostat, which can save 10-25 percent in energy costs all year when programmed to lower temperatures when no one is home in the winter. When used properly, a programmable thermostat with its four- temperature settings can save approximately $180 a year in energy costs (Source: ENERGY STAR).
*During the winter, for systems other than heat pumps, set thermostats at 68 degrees F, if health allows. This can help customers see a 3-4 percent decrease in energy use.
*Customers who heat their homes with a heat pump should follow manufacturer's instructions for optimal energy efficiency.
*Natural gas customers should consider setting the thermostat to 68 degrees during the day and 65 degrees at night.
*Inspect your Furnace. Have the furnace checked by a licensed professional to be sure it is operating efficiently and seal any leaks in furnace ducts. BGE offers rebates for these and other home efficiency improvements through the BGE Smart Energy Savers Program®.