Life in Baltimore: Favorite Thanksgiving dishes
Brenda Bowe Johnson | 11/24/2014, 5:41 a.m.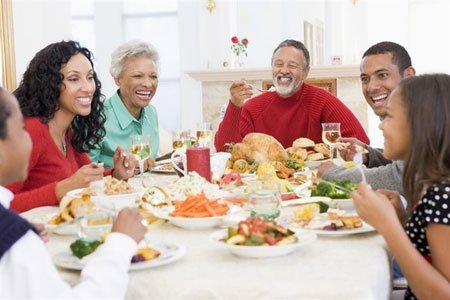 Autumn, with its array of beautifully colored foliage marks transition from summer into winter. The crunch of autumn leaves under your feet, the crisp chilly days and the smell of pumpkin spice, sparks the energy to prepare for the Thanksgiving holiday.
Thanksgiving may be the ultimate American holiday with turkey and cranberries being staples across the country, but depending on where the cook comes from there are variations on the turkey day menu including salmon in the Pacific Northwest, chili rubbed turkey in the southwest and clam chowder in New England.
In Baltimore, the Thanksgiving table may include turkey, a variety of dressings, mashed potatoes, turkey gravy, candied yams, sauerkraut, green beans, collards or kale and cranberry sauce.
Baltimoreans April Polk, Artrice Diane Baker, Esperance Sutton and Tara Turner shared some of their favorite Thanksgiving dishes.
April's Cornbread Dressing Recipe
April Polk learned how to make cornbread dressing from her mother-in-law more than 30 years ago and continues to prepare it each Thanksgiving and Christmas.
Cornbread or cornbread mix
1 egg
1/3 c milk
½ c onions
½ c celery
¼ c peppers
Turkey stock
1c chopped apples
1 tbs poultry seasoning
1 tsp garlic powder
Salt, pepper to taste
Pinch Old Bay
To one box of cornbread mix add 1 egg and 1/3 c milk, stir and bake at 375F in the oven about 20-25 minutes. Saute onions, celery, and peppers.
In a greased baking dish place cornbread cubes or pieces add the sautéed vegetables, chopped apples, turkey stock and seasoning. Bake at 375F for approximately 1 hour
Artrice's Scrapple Dressing Recipe
Artrice Diane Baker's mother-in-law from North Carolina taught her how to make scrapple dressing when she married into the family. Scrapple dressing was always served with Thanksgiving and Christmas dinner. Artrice's husband and son loved it, therefore, she carries on the family tradition today.
Bread -white and/or wheat
Rappa Original scrapple
½ c onions
1/2c celery
Chicken broth
Salt
Pepper
½ tbs parsely seasoning
Butter
Toast the bread on a baking sheet. Saute onions and celery in butter or margarine. Gradually add scrapple until lightly brown. In a greased baking dish, put in bread and sautéed mixture, add chicken broth, parsley, salt and pepper to taste. Baked at 350 for 45 minutes.
Tara's Mac n' Cheese
Tara Turner shares her version of that family favorite, macaroni and cheese. She learned to make it as a teenager from a friend's mom. "I fell in love with macaroni and cheese over 20 years ago while in high school," She said. "I had a best friend named Stacy, whose mom, Jean, was a great cook. Stacy would bring me a serving for lunch from a batch that her mother made the night before. As we got older, Jean, who I affectionately called Ma, showed me how to make it. She walked me through her recipe, step by step. Over the years I have changed the ingredients slightly, but I always think about her when I make it."