Streets of Ferguson smolder after grand jury decides not to indict officer
Holly Yan and Moni Basu | 11/25/2014, 8:25 a.m.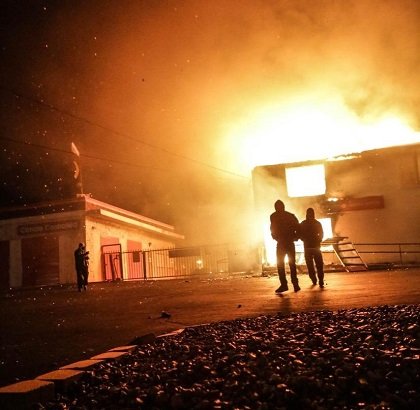 FERGUSON, Missouri (CNN) — This is what Ferguson looked like Tuesday morning.
Shattered glass from looted stores covered the asphalt. Shell casings from unknown shooters littered the ground. And more than a dozen buildings, including stores owned by local residents, had been set ablaze.
As protesters hurled bottles, batteries and rocks at police, officers in riot gear responded by shooting bean bags and tear gas.
"This ain't Iraq. This is the United States," Demetric Whitlock yelled to a line of police officers on South Florissant Road, in front of the Ferguson Police Department.
When a grand jury decided Monday not to indict Ferguson police Officer Darren Wilson in the August shooting death of 18-year-old Michael Brown, the news triggered fresh confrontations between protesters and police in the tense Missouri city.
While most of the demonstrators peacefully protested on the streets, some smashed the windows of a police cruiser and set another on fire.
An entire row of businesses on West Florissant Avenue, a major thoroughfare, was engulfed in flames. There were so many infernos that firefighters couldn't rush to every one.
Amid the looting and arson, some protesters demanded the media stop reporting on the events. CNN's Sara Sidner was struck in the head with a rock.
Many business owners will return to their shops to see their livelihoods in ruins. Looters broke into a beauty supply store and stole hair weaves and wigs, leaving the heads of mannequins strewn in the middle of the street.
And in nearby Dellwood, some people torched a row of cars at a car dealership and set several businesses on fire.
"The fire district does not feel safe coming out to put out fires because of the gunshots and the looting there taking place," Dellwood Mayor Reggie Jones said. "So they are refusing, basically, to come out and put these fires out."
Police response
Amid the chaos, police made 29 arrests. No officers suffered any serious injuries, St. Louis County Police Chief Jon Belmar said, and to his knowledge, police didn't cause any serious injuries, either.
But Belmar said he heard at least 100 gunshots go off through the night. Missouri State Highway Patrol Capt. Ron Johnson said police did not fire any of the bullets.
On Tuesday morning,Gov. Jay Nixon ordered more Missouri National Guard members to Ferguson.
"The Guard is providing security at the Ferguson Police Department, which will allow additional law enforcement officers to protect the public," Nixon's office said.
But it's unclear how long standoffs might continue between protesters and police.
"People here have a real grudge against the police," Whitlock said. "It's not going away."
Across the country
Outrage over the grand jury's decision spread far beyond Ferguson. Protesters gathered in New York, Seattle and Washington, where some laid down on the street outside the White House.
More than 120 vigils and gatherings were organized nationwide, including some scheduled for Tuesday. They'll take place in cities big and small -- from Los Angeles to Bangor, Maine.