Streets of Ferguson smolder after grand jury decides not to indict officer
Holly Yan and Moni Basu | 11/25/2014, 8:25 a.m.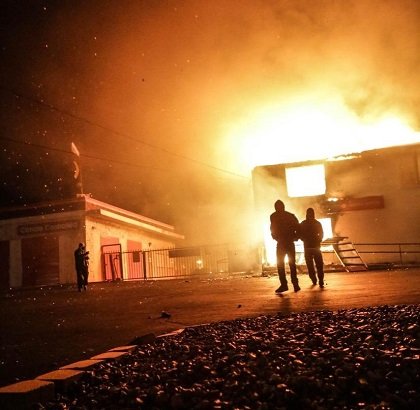 continued — 'Not the answer'
The violence is exactly the reaction that Michael Brown's father pleaded against. Before the grand jury decision was announced Monday night, he implored protesters to stay peaceful no matter what the grand jury decided.
"Hurting others or destroying property is not the answer," Michael Brown Sr. said. "No matter what the grand jury decides, I do not want my son's death to be in vain. I want it to lead to incredible change, positive change. Change that makes the St. Louis region better for everyone."
Brown's words were echoed by President Barack Obama, who also called for calm.
It is an "understandable reaction" that some Americans will agree and others will be made angry by the decision to not indict Wilson, Obama said in a live address Monday night.
"First and foremost, we are a nation built on the rule of law, so we need to accept this decision was the grand jury's to make," Obama said.
'Exhaustive review'
Wilson, a white police officer, shot and killed Brown, an unarmed black teenager, on August 9.
Brown's death ignited a national debate on race and law enforcement. Nowhere was the tension more evident than in the predominantly black town of Ferguson, which has a mostly white police department and town government.
Though the basic facts of the case -- that Brown was unarmed when Wilson shot him -- are not in question, the facts of the fatal moment are hotly disputed.
And grand jury testimony released late Monday offered little clarification.
Wilson gave his version of events, some of which contradicted that of other witnesses.
After an "exhaustive review," the jurors deliberated for two days to reach their decision, St. Louis County Prosecuting Attorney Robert McCulloch told reporters. He said the grand jurors are "the only ones who have heard all the evidence."
The grand jury had nine white and three black members. It met 25 times and heard 70 hours of testimony from 60 witnesses and three medical examiners.
Unlike a jury in a criminal case, which convicts someone if jurors are convinced of guilt "beyond a reasonable doubt," a grand jury decides whether there is "probable cause" to charge someone with a crime, based on testimony and evidence presented.
In Missouri, grand jurors don't have to be unanimous to indict, as long as nine of the 12 agree on a charge.
The grand jury could have issued an indictment on any of these four charges: first-degree murder, second-degree murder, voluntary manslaughter and involuntary manslaughter.
It also could have added a charge of armed criminal action, authorities said.
But jurors decided not to indict Wilson on any charge.
"The physical and scientific evidence examined by the grand jury, combined with the witness statements, supported and substantiated by that physical evidence, tells the accurate and tragic story of what happened," McCulloch told reporters.
'Split second decision'
In a statement by his attorneys, Wilson expressed thanks to those who have "stood by his side" since Brown's shooting.