Will Hill and the Baltimore Ravens: A perfect match
Turron Davenport | 11/28/2014, 6:10 a.m.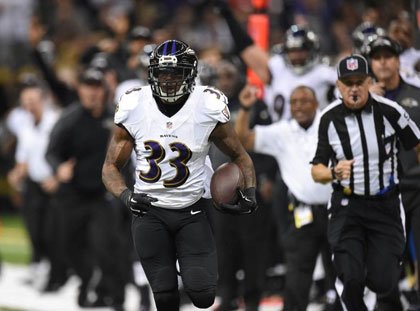 Baltimore Ravens safety Will Hill has settled nicely into a starting role with the team. He is a player who has had some trouble in the past but believes he has found the perfect match in his quest to secure a spot in the NFL.
His ability was on full display on the night of Monday, November 24, 2014. He was matched up with New Orleans Saints tight end Jimmy Graham one-on- one frequently during the game. His interception return for a touchdown was a major play in the Ravens victory in New Orleans.
The New York Giants released him and the Ravens signed him to a one-year $730,000 contact. The Ravens activated Hill before their home game against the Atlanta Falcons. This was after he served a six game suspension.
The problem with Hill was never a matter of his ability. He was a five star recruit out of New Jersey and continued to exhibit elite athleticism at the University of Florida. His problem was off the field discipline.
Hill says that the time off helped him to understand how much he loved the game and he had something to prove to his new teammates.
"I wanted to prove to them and show that I am capable of being a Raven. I wanted them to see that I have the physical tools and the mental capacity to be a part of this team. I am a football player," Hill said.
There is a certain type of attitude that is required to play on the Ravens defense. Hill has the attacking style of play that makes him fit in so well.
"I joke around with my brothers and we say I am just a hood guy playing football. The Ravens are an aggressive team and I have an aggressive style," Hill said. "This scheme is a perfect match. They wanted a ball hawk. I pride myself on going after the ball. It's been a really good fit so far."
To date, Will Hill has 13 tackles and one pass break-up on the season. Hill came off of a solid season with the New York Giants in which he posted 72 tackles and two interceptions including a 38-yard interception return against the Detroit Lions. Steve Spagnuolo is the secondary coach. He has ties to the Giants from back when he was a defensive coordinator there. He spoke to the Giants and they had nothing but good things to say about Hill.
Spagnuolo who has been an advocate of Hill's since day one said, "I know it was long and frustrating for him, but he came out of the blocks really well. It took a little while for him to get the communication down, get the rust off and play some good football, but we think right now what we have is a guy that is experienced. He's a big-bodied guy that can run real well. The play he made against the Tennessee Titans in the man-to-man coverage where he knocked the ball down was really, really key. It was a third-down play, and we need a lot of that. We need to be making plays back there, and he has done that."