Could Competitive Spelling 'Bee' Right for Your Child?
Jayne Matthews Hopson | 10/3/2014, 6:47 a.m.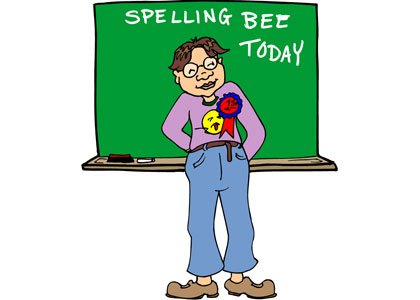 •Ask friends and neighbors to challenge you with great spelling words.
•Read great books; be entertained while effortlessly improving spelling and increasing vocabulary.
•Play Scrabble; scour the dictionary in search of words to stump family and friends.
In 2014-2015, more than 11 million students will participate in the National Spelling Bee. Generally, national competitors are veterans of several local and school-based tournaments. These three steps are excellent ways for students to get started working up to the championship.

•Step One: Learn the 100 study words for your grade level from the "2015 School Spelling Bee Study List." Ask your teacher or school spelling bee coordinator for the study words. Your teacher obtains the study words by logging into a password-protected area of spellingbee.com available exclusively for teachers. It is there that your teacher prints out "Study Words for (Your Grade Level)."
•Step Two: When you've mastered your 100 grade-specific words, you are ready to learn the words for other grade levels. Ask your teacher for the "2015 School Spelling Bee Study List"; it has a total of 450 words.
•Step Three: Get a head start on district, county, city, regional or state competition. Learn the words in "Spell It" a free online dictionary.
For information on National Spelling Bee competition requirements, parents should contact their child's classroom teacher.
Jayne Matthews Hopson writes about educational matters because "only the educated are free."