Ravens rookie Terrence Brooks is making his mark
Turron Davenport | 10/3/2014, 6 a.m.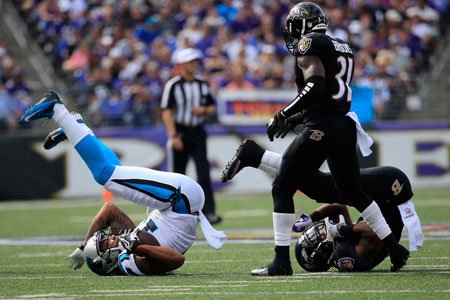 The Baltimore Ravens wanted to get more athletic on defense this year. They addressed the defensive side of the team with their first three picks in the 2014 NFL draft. Terrence Brooks was selected in the third round (79th overall) and he was expected to challenge for playtime at the free safety position right away. It took some time but Brooks is now making his mark on the Ravens defense.
Free safety is one of the more difficult positions to learn as a rookie. Brooks acknowledged this when he spoke to the media during training camp.
"There's a steep learning curve. Once I learned all that stuff and got it down, it was much easier. I just have to go out and make plays. You've got to be the commander back there." Brooks said. "We do so many formations and you've got to know each and every call and make sure the defense is set. It's a lot for safeties. I feel like that's one of the hardest positions to learn out there on the field."
Brooks pointed to his coaches at Florida State as a reason for him being prepared for the NFL. Mark Stoops was his defensive coordinator the first three years. Brooks says that Stoops helped him develop more confidence in his game and to use his speed on defense.
Jeremy Pruitt was the defensive coordinator for Brooks' National Championship senior season. Brooks says that Pruitt helped him become a student of the game. Learning the ins and outs of defense made Brooks a lot smarter on the field and a lot more comfortable, which has helped him to play faster on the field.
Brooks was not one of the first safeties to be selected in the draft despite an outstanding senior season and putting on one of the best performances for a safety at the combine.
"I feel like I gave it everything that I could at the combine, my pro day." Brooks said.
He also talked about his experience at the Senior Bowl. "The Senior Bowl was really good. Going to the meetings and talking to the scouts, [repeating] stuff in practice helped. It was a great experience to go against so much great talent."
The Senior Bowl was the first chance many NFL personnel got to have an up close look at Brooks. A lot of teams needed safeties this year and they just kept passing him up. The Ravens coaches looked at the film that he produced during his career at Florida State and were able to tell what kind of football player he was.
Head coach John Harbaugh likes what he has seen so far. "Terrence Brooks is coming on. He's doing great, learning fast. Safeties have a long way to go as rookies, but he's doing a good job. He's going to play a lot this year, no doubt."
The playing time is already starting to increase as the Ravens have lost a few of their cornerbacks due to injury. Brooks has gotten increased snaps at the nickel spot and has seen more action in various sub packages because of his ability to play both corner and safety.