Meet Don W. Lucas: A male breast cancer survivor's story
10/31/2014, noon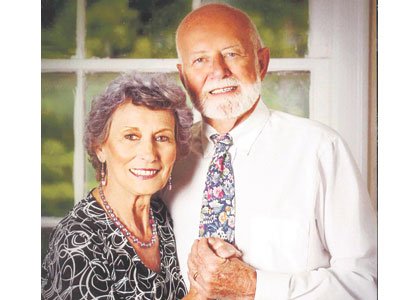 BALTIMORE — Sitting in a waiting room full of women at The University of Maryland Marlene and Stewart Greenebaum Cancer Center, Don Lucas waits patiently for the next name to be called. The women are all there for scheduled mammography appointments. Some of the women are by themselves, while others are accompanied by a spouse, another relative, or a friend.
"When the doctor's office says, 'Mr. Lucas you are next', everyone sitting in the room looks at me," said Lucas with a chuckle. "They are shocked. They all thought I was there waiting for my wife, but I am there for my annual mammogram appointment."
The Newark, NJ native is a breast cancer survivor. The Greenebaum Cancer Center located on Greene Street in Baltimore diagnosed his breast cancer in May 2009. At the time of his diagnosis, Lucas was living in Pennsylvania.
"I found the lump myself when I was taking a shower," recalled Lucas. "I ran the soap across my chest and felt a lump. That was on a Friday, and by that Monday, I was at the doctor's office. Well, they told me not to worry about it, but I told the doctor I was going to get a second opinion."

He added, "A good friend of mine was being treated for a different type of cancer at the Greenebaum Cancer Center, so I decided to go there for the second opinion. I'm glad I did."
Lucas who is now 79-years-old, was 74 at the time.
"The folks at the Greenebaum Cancer Center thoroughly checked me out. I cannot speak highly enough about all of them. They are wonderful, beautiful people. As soon as I walked in the door, I felt comfortable there. As soon as they checked me out, they wanted me to get in right away for surgery. They didn't want to wait. They removed my entire right breast."
According to the American Cancer Society, breast cancer is about 100 times less common among men than among women. For men, the lifetime risk of getting breast cancer is about 1 in 1,000.

The American Cancer Society estimates that in 2014, about 2,360 new cases of invasive breast cancer will be diagnosed in men, and that about 430 men will die of breast cancer.
"Males need to know they can get breast cancer too," said Lucas. "I am a little disappointed that with this being Breast Cancer Awareness Month, there isn't more noise being made about men having breast cancer. Many things I read and see about breast cancer awareness don't mention men. We don't get it that often, but we do get it. Males don't think it can happen to them, but oh yes it can. I know because it happened to me."
According to Lucas, his mother, and two of his aunts all had mastectomies.
"Breast cancer runs on my mother's side of the family, but I never thought it could happen to me until I was diagnosed," said Lucas. "Men have to pay attention to their family history. If you have breast cancer in your family and you feel something suspicious, get it checked. In my case, I thought it was just a lump in my chest. It was hard, about the size of a nickel, and was on the right beside my nipple."