Ravens finalize roster
Turron Davenport | 9/1/2014, 8 a.m.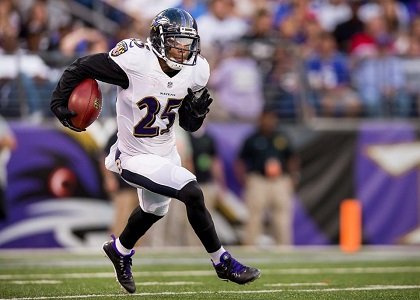 BALTIMORE — The Baltimore Ravens were one of the first teams to get their roster down to 75 players. There are sure to be more moves to be made as the Ravens finalize their 53 man roster. Versatility was the key to remaining on the roster for some of the Ravens players. Here is the Ravens roster breakdown:
RELATED STORY: Ravens wide receiver Kamar Aiken keeps on fighting
QBs: Joe Flacco, Tyrod Taylor
Tyrod Taylor will be the backup but there was some belief that the Ravens would keep three quarterbacks on their roster. Rookie Keith Wenning had a strong showing against the New Orleans Saints in the last preseason game. He is a very accurate passer that they hope to keep on the practice squad.
RBs: Bernard Pierce, Lorenzo Taliaferro, Justin Forsett FB: Kyle Juszczyk
Pierce will be the starter in the season opener against the Cincinnati Bengals if he is passes concussion protocol. If not, Taliaferro is more than capable of carrying the load. He reminds me of former San Diego Chargers running back Natrone Means because of how swift he is on his feet despite his size (6-0, 226 lbs). Juszczyk could become a key option in that passing game and will also serve as the lead blocker. Ray Rice will be on the reserved/suspension list and is set to come back for the third game of the season against the Cleveland Browns.
WRs: Steve Smith Sr., Torrey Smith, Jacoby Jones, Marlon Brown, Deonte Thompson, Mike Campanaro, Kamar Aiken
This was one of the most competitive battles during training camp. Thompson, Campanaro and Aiken were in a fight for the final two receiver spots. Jeremy Butler was also in the mix but he has been placed on injured reserve with a shoulder injury. It's interesting that they kept seven receivers on the roster. Don't be surprised if there is another roster move here. They may release one of them to sign a free agent to add depth at other positions.
TEs: Dennis Pitta, Owen Daniels, Crockett Gilmore
The Ravens have a solid group of tight ends. Pitta will get to use his athleticism on a lot of tight end screens. Gilmore was not a consistent option during the preseason but he is a big target for Flacco and can be line up flexed out wide. Gilmore can also play in the slot.
Center: Jeremy Zuttah, Gino Gradkowski
The trade for Zuttah was an excellent move. His skill set fits the zone scheme very well. Coach John Harbaugh has been pleased with what he has seen so far from Zuttah. Gradkowsi was the starter last year and will be a valuable backup at both center and guard.
OG: Kelechi Osemele, Marshall Yanda, John Urshchel
The Ravens made an interesting decision when they released Ryan Jensen. They seemed to have given up on Jensen after only one year in the NFL. Osemele is coming back from an injury and has his sights set on his first pro bowl season. Yanda remains one of the best guards in the NFL and is a bulldozer of a run blocker. Urshcel is a rookie that was retained instead of Jensen.