Ravens finalize roster
Turron Davenport | 9/1/2014, 8 a.m.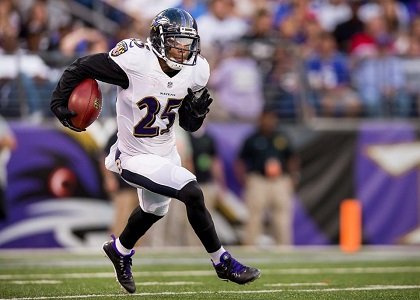 continued — OT: Eugene Monroe, Rick Wagner, Jah Reed, James Hurst
The Ravens are thrilled with the left side of their offensive line. That is in large part due to Monroe. Wagner will be on the right side and is starting for the first time in his brief career. He won the right tackle competition during training camp and will replace the departed Michael Oher.
CB: Jimmy Smith, Lardarius Webb, Asa Jackson, Chykie Brown
Smith, Jackson and Webb will be returning from injury. Smith sustained his injury during the second preseason game when he landed on his back as he tried to break up a pass. Webb had a back injury flare up that kept him from playing in the preseason. Jackson seemed to beat out Brown in the fight for nickel cornerback. He was injured against the San Francisco 49ers in the preseason opener. Brown will provide insurance at left corner in Webb should go down from his back injury again.
Safety: Matt Elam, Darian Stewart, Terrence Brooks. Anthony Levine, Jeromy Miles
Brynden Trawick
Stewart is a surprise starter here but he has earned it. Many thought that Brooks would beat Steward out. Brooks has shown great improvement over the last two weeks. He said that he is really learning how important it is to stay in his playbook. It's clear that he is in his playbook and as a result, Brooks is playing much faster. Brooks, Levine and Miles all have the ability to double as corners also. Trawick struggled in the preseason and I am surprised that he is still on the roster.
WLB C.J. Mosely, Arthur Brown, Albert McClellan OLB: Elvis Dumervil, Courtney Upshaw
Mosely and Brown are two of the more speedy linebackers. Brown was racking up tackles while he worked with the second team. He will be the future linebacker opposite of Mosely. They'll give the Ravens a young, athletic combination once Daryl Smith moves on.
OLB: Terrell Suggs, Pernell McPhee
Suggs and McPhee both got consistent pressure on quarterbacks during training camp. Suggs was virtually unstoppable at times. McPhee is a big linebacker in the mold of former Steeler's linebacker, Levon Kirkland.
SLB: Daryl Smith, Josh Bynes, Zachary Orr
Smith was an excellent acquisition last year. He may not be as athletic as Brown or Mosely but he does play all over the field. Bynes and Orr were kept because of their impact on special teams.
DE: Chris Canty NT: Brandon Williams, DeAngelo Tyson DT: Haloti Ngata, Terence Cody, Timmy Jernigan
The Ravens are extremely pleased with the way that their defensive line has looked during the preseason. Williams is going to be a starter for the first time and was dominating the inside gaps against the Cowboys. Ngata will move over to three technique and play alongside of Williams. Jernigan brings a lot of energy to the defensive tackle position.
K: Justin Tucker, P: Sam Koch LS: Morgan Cox KR/PR: Jacoby Jones
Tucker and Koch remain one of the best special teams. Tucker has shown that he can hit field goals from over 55 yards. Jones is an explosive player that is very we liked.
Reserve/Injured: DE Kapron Lewis-Moore, G Will Rackley, CB Aaron Ross, DE Brent Urban
Reserved/Physically Unable to Perform: DT/NT Terrence Cody Reserve/Suspended: RB Ray Rice, Safety Will Hill