Turning Point operates on principle that recovery is lifelong process
Ursula V. Battle | 9/12/2014, 9:02 a.m.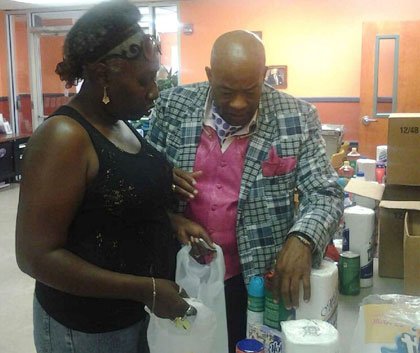 This is the conclusion of a three-part series about Reverend Milton E. Williams, pastor of New Life Evangelical Baptist Church and the church's Turning Point Clinic located in East Baltimore.
Penny Wooten recalls when she first tried drugs. "Once I tried it, I wanted to do it again," recalled Wooten. "At the time, I was in junior high school. Before I knew it, I was hooked."
From there, Wooten used heroin, crack cocaine, and marijuana for years. While it took just a few short moments of her life to become addicted, it would be decades before Wooten would be able to overcome her $1500-per-week drug habit.
According to Wooten, she overcame her drug addiction through the services she received through Turning Point Clinic. Operated by New Life Evangelical Baptist Church located at 2401 E. North Avenue, Turning Point Clinic is a faith-based substance abuse clinic. Turning Point Clinic currently has approximately 1,800 patients with 39 licensed and certified clinicians. According to Rev. Milton E. Williams, pastor of New Life Evangelical Baptist Church, Turning Point is the largest methadone clinic under one roof in Maryland.
"I am 10 years clean," said the 49-year-old Wooten. "Recovery is a lifelong process. I give God the glory because without Him, this wouldn't be possible. In 2011, I was saved, and I have worked in many capacities within the church. Pastor Williams is the best thing that has happened in my life. Had his daughter not died, he would not have had his vision. I don't know where I would be without Pastor Williams. This program saved my life."
According to Rev. Williams, he had a vision from God to help the drug-addicted after the tragic shooting deaths of both his sister and daughter on the streets of East Baltimore.
"Everything I have done has been inspired by God, including the name," said Rev. Williams. "Turning Point means a turning point in your life. We were able to open our doors in July of 2003. Within a few months, every slot was gone. You would think that more treatment in Baltimore would be a welcomed sight. However, politics quickly began to war against this tremendous cause, and those in position to rally around us began to work against us to close our doors."
He added, "But the writer John said, 'Greater is He that is in you, than he that is in the world.' In every obstacle, God has allowed us to prevail, from one victory to another. The state nearly closed our doors, but even in this, the hand of God was in what we were doing here."
Today, Turning Point Clinic has grown to become the largest faith-based substance abuse clinic in the country, and possibly the world. The clinic recently admitted its 5,000th patient.
In addition to Turning Point Clinic, New Life Evangelical Church also operates Hard Times Food Pantry.
"The food pantry is the largest food pantry in Baltimore," said Rev. Williams. "We serve Social Service clients and most of those who contact United Way's First Call For Help. We give out about 10,000 bags of groceries a year, and feed about 5,000 in our food kitchen every year. We feed people here twice a week and also give out clothes through the church."