Keith Wenning: Practice makes perfect
Turron Davenport | 9/19/2014, 12:10 p.m.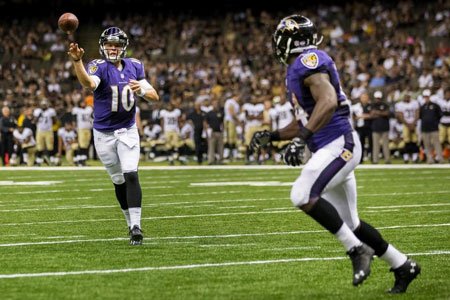 The Baltimore Ravens selected Ball State quarterback, Keith Wenning in the sixth round of the 2014 NFL Draft. Wenning had a decent training camp with the Ravens but was released when the team made the necessary cuts to finalize the 53-man roster. This wasn't the end for Wenning however.
Wenning was released on August 30, 2014 and signed to the practice squad on August 31, 2014. He understands that he still has an opportunity to play in the NFL and has kept a positive mindset. "I'm a rookie. I'm going to keep working and just be around, and I'm grateful for that. I just want to be around and learn as much as I can."
The future could be brighter than some may think for Wenning. He has a legitimate opportunity to be Joe Flacco's understudy. Tyrod Taylor is the current backup quarterback but his contract is up after this year. Wenning could slide right into the backup role if Taylor isn't retained.
The Ravens travel to Cleveland to play the Browns this week. This trip will be a homecoming for Wenning as he is from Coldwater, Ohio. Wenning was a fan of both the Browns and Bengals during his early years. He even got the chance to go to some Browns and Bengals games. The quarterback he liked to watch the most was Peyton Manning.
Wenning played baseball, basketball and football at Coldwater High School. His team, the Coldwater Cavaliers lost in the Ohio State championship game during his senior year. The accuracy that has become a trademark for Wenning showed back in high school. Wenning completed 40 passes in that championship game, a school record.
The aforementioned accuracy carried over to Ball State as Wenning set numerous school passing records. A large focus at Ball State was working to develop more accuracy on the deep throws. "We do a lot of drills to focus on the deep ball. Footwork is something that I always worked on at Ball State," Wenning said.
The extra work that Wenning put in definitely showed. He was one of the most accurate passers in all of college football. The problem was that he didn't take many snaps from under center in Ball State's spread offense. Many thought the transition would be a bit more difficult for him.
Wenning knew that it would be an adjustment, so he worked on it during his senior year. "Throughout the season I did some work on my drops. I worked a lot from under center, as soon as the season was over," said Wenning.
He went into the NFL Scouting Combine with the goal to show everyone his skills. Wenning said; "I have the touch, the arm and the accuracy that is needed to play at the next level."
Wenning worked with Drew Brees in San Diego during the off-season and took note of his intense attention to detail. It was a good opportunity to see how a topnotch player at his position prepares for the season.
The ability to hit receivers perfectly in stride and deep throwing accuracy is something that Wenning and Brees have in common. There were times where Wenning put on a passing clinic against the Ravens defense during training camp. He even completed 11 straight passes in one of the practices.
The preseason ended on a great note for Wenning. He completed 8 of 13 passes for 117 yards in the Ravens' preseason finale against the New Orleans Saints. He showed signs of being worthy of a roster spot. However, his contribution will be on the scout team this year. Don't be surprised if Wenning is the top backup in 2015!