NFL threw Ray Rice under the bus
Raynard Jackson | 9/22/2014, 6 a.m.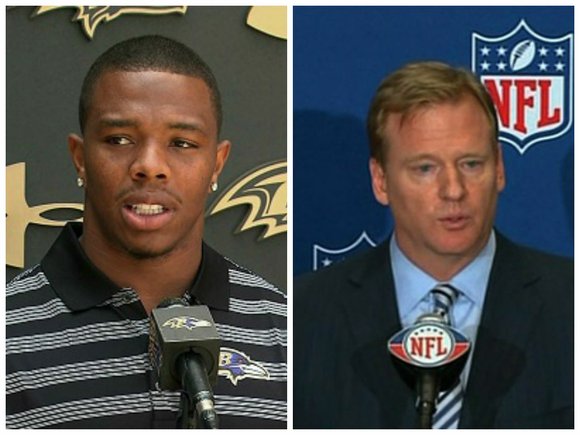 By now most people have heard how Ray Rice has been thrown under the bus by the National Football League (NFL) and his former team, the Baltimore Ravens.
First, some background for the non-football fans. Rice was drafted by the Ravens in the second round (55th overall) of the 2008 NFL draft. He signed a four-year contract for $2.805 million plus a $ 1.1 million signing bonus. Last year, he signed a five-year, $35 million contract, paying him a $15 million signing bonus.
Second, here are some cold facts:
*On February 15, both Rice and his then-fiancée, Janay Palmer, were arrested and charged with assault after a fight at an Atlantic City, N.J. casino.
*On March 27, a grand jury indicted Rice on third-degree aggravated assault (charges against Palmer were dropped).
*On March 28, Rice married Palmer (the date had been planned and announced before the assault charge).
*On May 20, Rice was allowed to enter into a pretrial diversion program. Upon successful completion of the program, which will be a minimum of one year, the third-degree charge of aggravated assault causing serious bodily injury would be dismissed. The arrest would remain on his record, but with no conviction.
*On July 24, the NFL suspends Rice for two games.
*On July 25, the Raven's organization rallies around Rice.
*On August 28, the NFL established domestic violence policy for the league.
*On September 8, the celebrity Website TMZ releases video of Rice knocking out his wife in an elevator and dragging her out of the elevator when it stopped.
*On September 8, the Raven's terminates Rice from the team.
*On September 8, 2014, the NFL suspends Rice from the league indefinitely.
The Associated Press reports that on September 10, a law enforcement official says he sent damaging video of Rice knocking out his then-fiancee to the NFL, despite League denials.
The above narrative is the only thing we know to be indisputable.
Prior to the video's release, Rice had been caught on a security camera dragging his fiancée out of the elevator. That got him suspended for two games without pay. The penalty, which some criticized as too lenient, cost him about $530,000 in salary.
Now that everyone has seen the graphic video of the actual event, people have all of a sudden become filled with phony righteous indignation. Rice should have been punished not because of the video, but because of the act itself. But doing a bait-and-switch on his punishment amoung to pilling on.
Now many professional athletes, entertainers, politicians and the public want to make public statements about how terrible a person Ray Rice is.

Where was this outrage before the release of the video? Where is the outrage from these athletes and entertainers about the precious black children being killed in Chicago? Where is their outrage about anything other than collecting a bigger paycheck?
To ultra-feminist groups, especially the National Organization of Women (NOW), why are you so selective in your outrage about how women are treated? To this day, you have never criticized Beyoncé for objectifying herself and women in her music. Yet you criticize Hip Hop for the same thing. Where is their outrage about a woman who raped a child in Arizona when he was 14 and now, at 20, is being forced to pay child support for a six-year-old child he never knew existed?