UMD researchers aim to reduce side effects of prostate cancer treatment
Angela Austin | 9/22/2014, 6 a.m.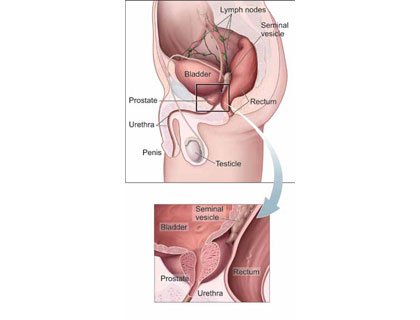 Prostate cancer is the second-most common cancer and the second-leading cause of cancer death in American men. For African American men, the numbers are even more staggering— they are more likely to develop the disease than Caucasian men and nearly 2.5 times as likely to die from it. Prostate cancer can be extremely aggressive, and it's critical to catch and treat aggressive cases early. But for the majority of men diagnosed with prostate cancer, living with the side effects of treatment—including impotence and incontinence—are worse than living with the disease itself.
What is the Prostate?
The prostate is part of a man's reproductive system. It's located in front of the rectum and under the bladder. The prostate surrounds the urethra, the tube through which urine flows.
A healthy prostate is about the size of a walnut. If the prostate grows too large, it squeezes the urethra. This may slow or stop the normal flow of urine. The prostate is a gland. It makes part of the seminal fluid. During orgasm, the seminal fluid helps carry sperm out of the man's body as part of semen. Visit: www.cancer.gov/ca... for information about prostate cancer treatment, prevention, genetics, causes, screening, clinical trials, research and statistics from the National Cancer Institute.
This is because most men diagnosed with prostate cancer have a non-aggressive form of the disease, with tumors that grow very slowly—so slowly, in fact, that these men could live the rest of their lives without cancer-related complications and die from other causes. But since current methods of differentiating between aggressive and non-aggressive cancer at diagnosis are limited, many men with low- or intermediate-risk prostate cancer either have their prostate removed surgically or undergo full-prostate irradiation. While these treatments are highly successful, the side effects can take a huge toll on a man's quality of life.
"Right now, we don't have any way to prevent or treat the side effects. It's the unfortunate price that patients pay for treatment," says Zeljko Vujaskovic, MD, Ph.D. professor of radiation oncology and director of the Division of Translational Radiation Sciences at the University of Maryland's Department of Radiation Oncology. "It's a major concern for patients, because the disease itself is highly curable."
Prostate cancer is, indeed, a highly curable disease— according to the American Cancer Society, the 15-year relative survival rate for all stages of prostate cancer is 94 percent. However, due to physicians' inability to differentiate aggressive cancer from non-aggressive, they treat the majority of cases, putting those patients at risk for impotence and/or incontinence.
Researchers at the University of Maryland Marlene and Stewart Greenebaum Cancer Center are working to develop more sophisticated diagnosis techniques and treatment options to enable doctors to differentiate low- from high-risk disease and deliver more targeted treatments. The goal is to minimize or eliminate side effects in men who do not necessarily need the more aggressive treatments that come with greater side effects.
Mohummad Minhaj Siddiqui, MD, assistant professor at the University of Maryland School of Medicine and a urologic surgeon with the cancer center, is exploring different ways to identify aggressive cancer. In the lab, he's looking at prostate cancer cell metabolism to determine disease type.