UMD researchers aim to reduce side effects of prostate cancer treatment
Angela Austin | 9/22/2014, 6 a.m.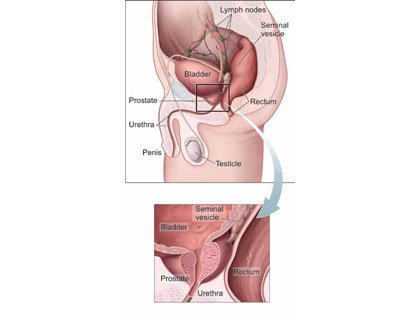 In the clinic, he is interested in testing more advanced methods for identifying and diagnosing aggressive disease. Right now, prostate cancer screening is done through a prostate-specific antigen (PSA) test, which measures the level of PSA in a man's blood. PSA is often elevated if a man has prostate cancer, but a number of other factors can impact PSA level. If the levels are elevated, a random biopsy of the prostate is done. If cancer is found in any of the samples, the entire prostate is treated. Dr. Siddiqui is looking at ways to improve prostate cancer screening through imaging.
"Prostate is the only cancer in the body that we historically weren't able to reliably screen for through imaging. It's been a real disadvantage in our ability to accurately diagnose and track treatment progress," says Dr. Siddiqui. "With recent advances in MRI imaging, we are now better able to pinpoint the location and size of a tumor. This allows doctors to determine how and if to treat the cancer, and could open the door for more targeted treatments." He expects to test this new technology in an upcoming clinical trial.
While Dr. Siddiqui's research seeks to improve diagnosis and treatment of prostate cancer, Dr. Vujaskovic and his team are working to reduce the side effects of radiation treatment using drug therapies to counteract the long-term effects of radiation. These therapies include radioprotectors, which would be given to patients before radiation exposure; radiation mitigators given after treatment; and therapeutic interventions that could lessen or prevent symptoms from radiation treatment side effects, such as impotence.
"We are exploring all of these approaches with drugs, with the goal of moving some of them into the clinic, to use with patients, in the next year or so," says Dr. Vujaskovic.
Collectively, Greenebaum Cancer Center researchers aim to not only improve prostate cancer diagnosis and treatment, but also ease some of the stress that patients feel when deciding if and when to undergo treatment.
"We've developed extremely effective treatments for prostate cancer," says Dr. Siddiqui. "Now we need to take advantage of new technology and refine our practices so that men can go into treatment with confidence that they can be cured without the life-altering side effects."