Five things: Ravens owner disputes scathing ESPN report
Steve Almasy | 9/23/2014, 6 a.m.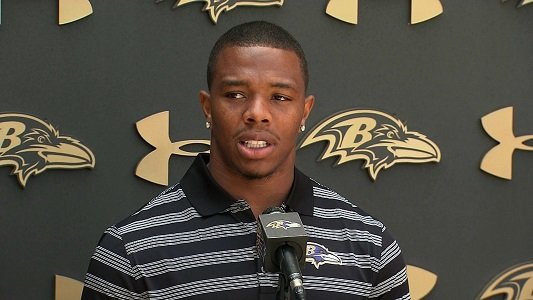 It was obvious that Baltimore Ravens owner Steve Bisciotti didn't like his organization's integrity being questioned.
On Monday, he sat down (didn't use a lectern) to talk with sports reporters about last week's ESPN report that implied the Ravens' top brass knew early on how bad the Ray Rice domestic violence case was and the team tried to influence Roger Goodell to give the running back a light penalty.
While denying that was the case, Bisciotti did admit again that he and the team should have done more to get the video that led to Rice being axed by his Ravens and suspended by the NFL.
Bisciotti spoke for 47 minutes, at one point telling a media relations person who wanted to end the news conference that it was OK to keep going.
Here are five key points we learned from the owner's candid discussion and the letter to fans that the Ravens issued tackling 15 points from the ESPN report that it disputed.
Who were the sources for the story?
Bisciotti told reporters that he believed Ray Rice's people were most of the unnamed sources for the story as part of their attempt to get his indefinite suspension overturned.
"Almost everything in (the article) is anonymous but it's clear from the subject matter it's Ray's attorney, Ray's agent and Ray's friends. They are building a case for reinstatement and the best way to build a case for reinstatement is to make everyone else look like they're lying."
The Ravens owner said he wished the reporters for ESPN -- which issued a statement: "We stand by our reporting" -- had acknowledged to readers how big a role Rice's camp played in the story.
In its report it said: "'Outside the Lines' interviewed more than 20 sources ... team officials, current and former league officials, NFL Players Association representatives and associates, advisers and friends of Rice."
Bisciotti claimed some of those friends "started making things up."
ESPN investigative reporter Don Van Natta appeared on "Outside the Lines" after Bisciotti made his claims and said they were false.
"It's an assumption he's making ... but it's unfortunately just not true," he said.
When did the Ravens know what was on the in-elevator video?
It's the damning piece of evidence that got Rice fired and suspended indefinitely. He is appealing through the players' union. The video from inside the elevator at a New Jersey casino shows Ray Rice in the early morning hours of February 15 knocking out his future wife with a vicious punch to the head. TMZ Sports posted what it says was a cleaned up version of the recording. ESPN reported that Ravens Director of Security Darren Sanders knew within hours of the incident what was on the video, through a report given to him by a police officer in Atlantic City.
This conflicts with what the Ravens have said about when they knew what was on the video.