Comcast kicks off fourth year of Internet Essentials
55 students awarded free computers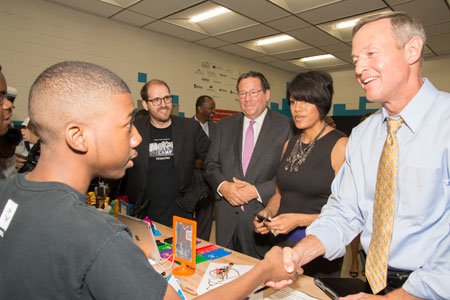 BALTIMORE — Comcast continues to make significant strides in closing the digital divide. On September 22, 2014, Comcast hosted a special event at Digital Harbor Foundation (DHF) in Baltimore to announce the extension of its Internet Essentials promotion and awarded 55 computers and six months of complimentary service to students attending the event from Digital Harbor High School and Liberty Elementary School.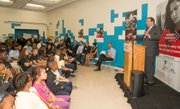 "Internet Essentials is about transforming lives and inspiring a new generation of leaders to be digitally ready to access the information and tools all students need to succeed in the 21st century," said Comcast Executive Vice President David L. Cohen.
Internet Essentials from Comcast is the nation's largest and most comprehensive broadband adoption program. It provides low-cost broadband service for $9.95 a month plus tax; the option to purchase an Internet-ready computer for under $150, and multiple options to access free digital literacy training in print, online and in-person.
Since 2011, Internet Essentials has connected more than 350,000 families, or about 1.4 million low-income Americans, to the power of the Internet, including more than 7,400 families, or about 29,700 low-income residents in Maryland. The program is available in 39 states and the District of Columbia.
The event, which was held at Digital Harbor Foundation located at 1045 Light Street in Baltimore, also sought to raise awareness about the importance of closing the digital divide and kicked off the fourth year of Internet Essentials. Comcast also announced the extension of the Internet Essentials promotion, which offers six months of complimentary service to eligible families who apply before September 30, 2014.
"It's exhilarating to see what kids are capable of accomplishing if they have the basic tools," said Cohen. "Many of these kids were not able to work on projects at home, but they now have a free computer. This was an amazing event, but the real stars are the students." Throughout the back-to-school season, Comcast will actively engage with parents, teachers, non-profit partners and elected officials to help spread the word to low-income families about the program.

Additionally, Comcast recently announced an amnesty program for certain low-income families who could qualify for Internet Essentials, but have a past due balance. Comcast will offer amnesty for that debt for the purpose of connecting to Internet Essentials, so long as the customer meets all the other eligibility criteria.
"We are beginning to make a difference in closing the digital divide," said Cohen. "But we also realize we have a lot more eligible people we need to get signed up. We want everyone to know about this program and to take advantage of it. We are discussing how to expand eligibility, and are concentrating on extending the reach of the program to eligible individuals with school age children."
Governor Martin O'Malley, and Mayor Stephanie Rawlings-Blake were also in attendance.
"I'm pleased to join Comcast today in this ongoing effort to overcome barriers to broadband adoption in Maryland and throughout the country," said Governor O'Malley.
Mayor Rawlings-Blake, added, "By connecting the city's low-income residents to the Internet at home, Comcast is providing families with a tool crucial for success in the modern workforce."