Comcast kicks off fourth year of Internet Essentials
55 students awarded free computers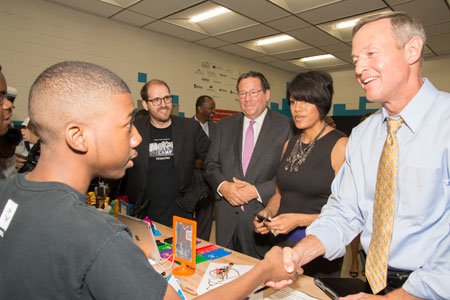 continued — Andrew Coy is the Executive Director of Digital Harbor Foundation (DHF), which fosters innovation, tech advancement, and entrepreneurship by helping youth develop digital age skills.
"The internet is an essential tool in every aspect of our lives," said Coy. "It is a tool that is so basic in terms of how people access information and share it with others. I don't see an achievement gap, but an opportunity gap. Where's there a lot more opportunity, there is much more achievement. This partnership is all about providing more opportunities."
Brian Eyer, principal of Digital Harbor High School, noted how the program advances the school's purpose. "The mission of Digital Harbor High School is to prepare students for computer technology careers, college and productive citizenship," said Eyer. "This partnership with Comcast allows us to provide free Internet for our students, which gives them the ability to work on their projects at home. This is a great advantage for our kids."
During the event, Comcast also highlighted the latest Internet Essentials milestones and program enhancements. Since its launch in 2011 to the end of June 2014, these achievements include selling nearly 30,000 subsidized computers at less than $150 each and offering Internet Essentials in more than 30,000 schools and 4,000 school districts.
For more information, including eligibility requirements, or to apply for the program, visit: www.InternetEssentials.com or call 1-855-846-8376, or for Spanish, visit: www.InternetBasico.com or call 1-855-765-6995.