2015 NFL Draft Spotlight: Kansas State WR Tyler Lockett
Turron Davenport | 4/2/2015, noon | Updated on 4/2/2015, 10:17 a.m.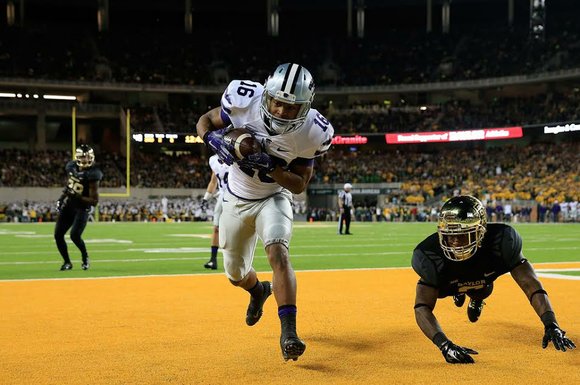 The prototype at the wide receiver position is a big, fast player that can create mismatches. As a result, more and more teams are employing long cornerbacks that can match the size of the bigger pass catchers. The one problem is that these tall corners often struggle with smaller, quicker receivers. Kansas State wide receiver Tyler Lockett is a receiver that is average sized but plays much bigger than he is and is able to win against the physical corners on the outside.
The Baltimore Ravens lost their most legitimate deep threat when free agent receiver Torrey Smith signed with the San Francisco 49ers. Lockett would be the ideal selection for them in the second round because of his ability to stretch the field. Many will look at his 5-10 182 pound frame and jump to the conclusion that he can't win when he lines up over top of the numbers.
The film that Lockett puts out reveals the exact opposite. Simply put, Tyler Lockett is a joy to watch. The NFL blood lines that he possesses shows every time he puts the pads on. His father, Kevin Lockett held numerous receiving records at Kansas State but that was before Tyler broke them. The elder Lockett played had a six year career in the NFL.
The younger Lockett is a very smooth route runner and has the ability to make defensive backs look really bad. His footwork is outstanding. It allows him to stop and start effortlessly. He uses the footwork along with supreme quickness to get open using double moves and get a free release at the line of scrimmage.
Lockett talked about how he has been able to be successful as a receiver. "You have to be able to utilize the strengths that you have. For me, it's speed, it's quickness and being able to get off the release. I make them think that I am going one way and I am going the other way. I make sure that I am selling everything and catching the ball."
There are things that stand out when evaluating Tyler Lockett. One is his route running which is accented by his footwork. He says that it is an area that he constantly works on. "One thing that I like to emphasize a lot is my route running. I have to make sure that I am getting open and making the throw a lot easier for the quarterback. There are a lot of great DBs out there so me standing as close to you like this, that's called open in the NFL."
Lockett is one of the better route runners in this draft because of how he sells his routes. A lot of times, he is able to get open by simply using misdirection. The video below shows him going against Jason Verrett, a cornerback that was selected in the first round by the San Diego Chargers last year. Verrett is known for his quickness and footwork but even he was a victim of Lockett's deceptive route running ability.