Local designer creates luxurious, 'nostalgic' handbags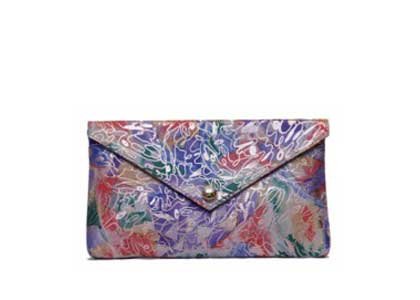 What do Fashion Affair magazine, Luevo and News Channel 12 in New York have in common? They have all showed off designs by Baltimore-based handbag and accessories brand Linell Ellis.
They are not the only ones, the designs by Linell Jackson, who named the company Linell Ellis because her husband's name is Ellis, also have popped up on a fashion week runway in the Bronx, New York, and in several fashionista blogs, including Kassie's closet.
"Our handbags and accessories are what I like to call accessible luxury," Jackson said. "They are always reminding you that luxury should be embraced every day and we believe in a classic approach to design, with fanciful color and charming prints, making every piece one that can be worn today, tomorrow and for years to come."
The bags have also contributed to excitement within her family with each being named after a relative.
"I am continually inspired by my mother and grandmothers and I'm waiting to name a bag after each of them because I want it to be the right bag," Jackson said.
She named her rattan, royal python, brown snake and colorful novelty print after her aunt Florence because Jackson said her aunt had "a personality of ten thousand. She was fun and had the best laugh."
The clutch stingray and black leopard bags, named for Alice another aunt, brings visions of beautifully placed hair and of someone who was "quite put together," Jackson said, adding that, "She had flair!"
The cousin Nikki collection features the clutch coral alligator, the turquoise alligator and the leopard, in part because Jackson said her cousin is a go-getter with a warm heart.
Finally, there is cousin Candi, whom Jackson described as beautiful and strong and an individual with the most contagious smile she's ever seen. The "Candi" line includes the ruby red satchel, the satchel cork and the satchel leopard.
"We are a happy brand and we believe that true luxury is found in life's experiences so we try to evoke the feelings of nostalgia for our customers," Jackson said.
Mostly, though, she says she is proud that many in the collection are locally made.
Jackson, a graduate of UMBC, says she carefully designs each of her handbags because accessories often serve to make individuals happy and add confidence.
In an industry where researchers say Americans spend $250 billion each year on women's luxury designer goods, the average woman buys three new handbags yearly, Jackson said business has done quite well with her bags ranging from $150 to $525.
More than the price, Jackson said she simply enjoys creating accessories others love and can use. She noted that she travels extensively to come up with ideas.
"I derive my inspiration and create a board for each session. For instance, with one [design] we started in Morocco and examined all of the colors and textures and then went to a Caribbean location which is also in the sun in a different part of the world," Jackson said. "It had beautiful, vibrant colors and textures so we took the similarities and built the collection which focuses on color and texture."