NFL Draft Hopefuls Shine at University of Maryland Pro Day
Turron Davenport | 4/3/2015, noon | Updated on 4/3/2015, 11:05 a.m.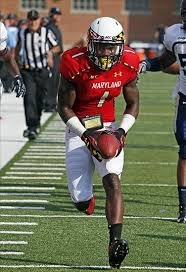 COLLEGE PARK, Md. — The University of Maryland held their pro day for NFL scouts and personnel people to get a look at a group of the university's NFL Draft prospects. Most of the scouts came to College Park to take a look at two wide receivers: Stefon Diggs and Deon Long. New England Patriots head coach Bill Belichick was also in attendance. Belichick took a special interest in linebacker Cole Farrand.
Farrand started the day off on a good note by registering a 35 inch vertical. He followed that up by posting what one AFC Scout said was a 4.56 time in the 40 yard dash. The wind conditions at Byrd Stadium were less than ideal. This is something that didn't go unnoticed by Farrand." It felt like I was running through a wind tunnel when we ran the 40. I was trying to be aerodynamic like those cars that you see on TV."
Farrand moved well through the linebacker drills and projects to be an inside linebacker in the NFL. Belichick called Farrand's name and asked him to take part in the linebacker drills. Farrand said that he was surprised that the Patriots head coach called for him to get in the drills but he had full intentions of doing the drills anyway.
The pro day was a solid showing for the two time team captain. "I think the workout went well. I think that I am more of a sideline to sideline guy, always around the ball, hustling to get to it. I am in a good spot right now. I feel like I have increased my stock. A lot of the scouts came up to me and told me that I had a good work out today. They liked the way that I moved."
Stefon Diggs was the main event at pro day. He took part in the short shuttle along with the 60 yard shuttle. Another thing that Diggs did was the bench press. He posted 11 reps there.
Diggs caught the ball very well despite the windy and sunny conditions. Patriots executive Nick Caserio threw passes to the receivers. Diggs had to track a throw that was supposed to be over his right shoulder but ended up over his left. It caused him to reverse his positioning and make the catch which is something that isn't easy to do.
One of the things that stood out about Diggs at pro day was how he was so emotionally invested in every one of the tests that his teammates took part in. He cheered them on with enthusiasm. Diggs said that being a leader is something that he has done throughout his career at Maryland. "It was a good day. I was happy to be back with my guys. I haven't seen them in so long. I missed them. I came out here with high energy to support my guys. Being a leader has been my role on this team. I put my best foot forward and I hold everyone accountable and want them to hold me accountable."