2015 NFL Draft Spotlight: Missouri OLB/DE Markus Golden
Turron Davenport | 4/7/2015, 10 p.m. | Updated on 4/7/2015, 4:56 p.m.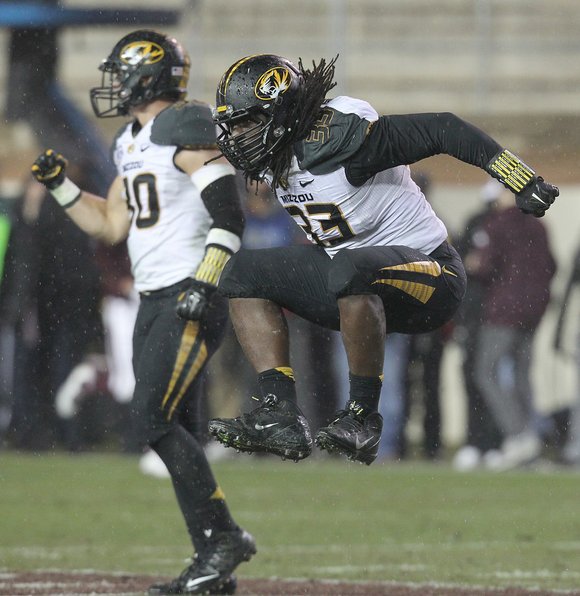 BALTIMORE — The Baltimore Ravens had a ferocious pass rush anchored by Elvis Dumervil, Terrell Suggs and Pernell McPhee last season. McPhee has since moved on via free agency. He signed a big time contract with the Chicago Bears. Dumervil was among the league leaders in sacks and enjoyed what was arguably his best season in the NFL. Then there is Suggs, a veteran pass rusher that passed the legendary 100 sack count last season.
Both Dumervil and Suggs are growing long in the tooth. Suggs is 32 years old but he has said that he would like to play a few more seasons. Dumervil is 31 years old. The Ravens could use some depth at outside linebacker; especially after losing McPhee. One pass rusher that really fits the Ravens tough, nasty style of defense is Missouri hybrid defensive end/outside linebacker Markus Golden.
Golden is one of those defensive guys that plays the game with attitude. He is an intense competitor that shows a high motor on every snap. He explained what it is that makes him go hard on every play. "I always compete. You have to compete at a high level. It's my 'want to' and determination that helps me get after quarterbacks." Golden continued; "I love to play the game of football. I always work to be relentless. I'm getting out there and wanting to make the play no matter what, even if the quarterback is on the other side of the field, I will still try to get to him and make the play."
The high motor is one of the biggest attributes for Golden. It isn't rare to see him bring down a running back after the running back ran past him as he rushed up field. He can come down the line and make the tackle on stretch plays to the opposite side of him. Golden gets a very good jump on the ball and uses a quick inside move teamed with a swim move to make his way down the line of scrimmage.
Some have said that his 31 1/8th inch arms are too short for him to be an edge pass rusher. That's not truly the case. Golden has extremely violent hands. He is able to use them to knock down the offensive lineman's hands as they try to lock onto his chest plate. For Golden, it's all about who gets to the other man first. When asked about this, he said; "I work on getting my hands on them before they get their hands on me. It makes it easier to get to the quarterback. I take pride in having strong hands but I work to have quick hands also."
Those strong hands are exactly what he uses to aggressively set the edge against running plays to his side. Setting the edge is of absolute importance for a 3-4 outside linebacker. Golden is fully capable of holding his ground and forcing runs back inside. His compact, powerful body is full of energy and he uses every bit of it to unload on ball carriers when he makes tackles. Simply put, he is a violent tackler.