Michelle Obama's Let's Move turns 5; Is it working?
Kevin Liptak | 4/7/2015, 6:48 a.m.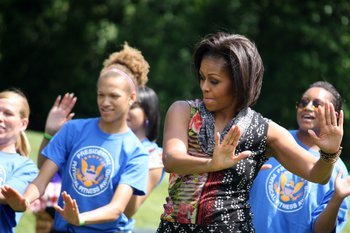 Chocolate bunnies and jelly beans generally render the Easter holiday a high-calorie event. On the Monday afterward, First Lady Michelle Obama, leading a high-energy dance in front of a large crowd at the White House, wants to ensure those calories get burnt off.
Seeking to capitalize on the popularity of the White House Easter Egg roll, Mrs. Obama turned this year's event into a fifth birthday party for her Let's Move initiative, which she launched in 2010 as a way to combat childhood obesity.
Aside from the decidedly low-impact egg roll itself, the 35,000 expected attendees could spin on stationary bikes or Zumba off a few pounds on the South Lawn. The first lady danced while her husband, the President, won a round of kiddie tennis.
"Be a part of the movement. It's fun!" extolled the first lady. "It's a great way to get everybody moving."
On its fifth anniversary, Let's Move has survived criticism from Republicans, food companies, school lunch professionals, and -- perhaps most visibly -- schoolkids themselves, some of who registered their displeasure at new school lunch rules by posting photos of soggy scoops of vegetables on social media.
But amid the onslaught, signs of progress have emerged. Last year the Centers for Disease Control said the prevalence of obesity dropped 43% among young children -- aged 2-4 -- between 2004 and 2012.
Critics said that measurement cherry-picked the data for good news amid what otherwise remains a worrying trend toward overweight and obese kids. At 17%, the overall rate of childhood obesity remains more than three times higher than it was in 1974. That overall rate hasn't changed since 2008, before Let's Move began.
But experts say the drop in early childhood obesity is a promising sign since it suggests kids may be learning healthy habits earlier. And they assert an obesity rate that isn't rising is a good sign.
How much that has to do with Let's Move -- if anything at all -- remains unknown.
"Across the whole spectrum of kids what we're seeing...is a slowing down and stabilization" of obesity rates, said Dr. Deb Galuska, the Associate Director of Science, Division of Nutrition, Physical Activity, and Obesity at the CDC.
"We don't know the reason," she said. "There's been a big emphasis on obesity issues though a variety of channels."
The first lady has been careful not to proclaim victory against obesity too loudly. But she has taken come credit for the small signs that kids are leading healthier lives.
"I just think we have seen a change in the culture," she said on "Live with Kelly and Michael" Monday, one of several daytime talk show interviews she's participated in to mark the Let's Move anniversary.
"Five years ago people looked at me like I was crazy because they said it wasn't an issue," she said. "That childhood obesity wasn't an issue in this country. And today we have seen changes, improvements in the school lunches. We've seen grocery store manufacturers putting healthy food there and keeping the prices low. Schools, classrooms are putting in salad bars. And kids are getting active during the day. It's just been a real culture shift."