2015 NFL Draft Spotlight: Ohio State WR Devin Smith
Turron Davenport | 4/8/2015, 6:30 p.m. | Updated on 4/8/2015, 5:44 p.m.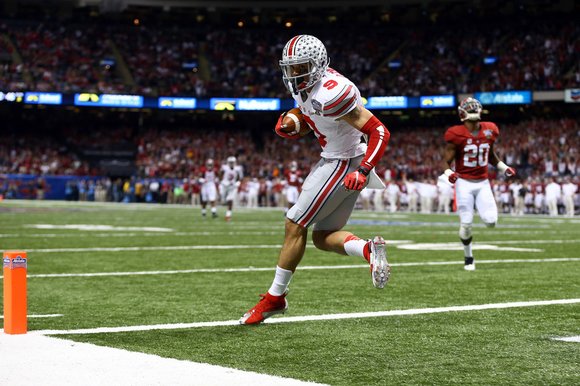 BALTIMORE — The Baltimore Ravens have the "need for speed" as they enter the 2015 NFL season. The loss of Torrey Smith to the San Francisco 49ers stripped the Ravens of their fastest player. Quarterback Joe Flacco throws the deep ball as well as anyone in the NFL. He had zero hesitation to unleash a pass down the field for Torrey Smith to run under. Often times, the result was either a long reception or a penalty being called on the defensive back as he struggled to keep from getting burned.
The 2015 NFL Draft has a number of prospects that can run like a deer. One of those prospects is Ohio State wide receiver Devin Smith. He consistently beat opposing defensive backs on deep routes from both the slot and over top of the numbers. Smith averaged 28.2 yards per reception. Even more astonishing is the rate in which he scored touchdowns. He was able to get the ball into the end zone every 2.75 times that he caught it.
There weren't many receivers in college football that produced big plays like Smith did. He was able to produce an explosive play (25 or more yards) on 54.5% of the receptions that he made last season. Smith has the ability to threaten a corner-back right from his release. He is able to hit top speed within a few steps off the line of scrimmage. Most corners didn't attempt to challenge him at the line of scrimmage yet he eliminated the cushion constantly.
The respect that Smith got from defensive backs allowed him to get a free release at the line but it gave the defensive backs a head start when covering deep attempts. Smith explained how he was able to overcome that when he said; "A lot of times, especially this past year, DBs played me off and press bailed a little bit. I had to use double moves and my speed to threaten them."
Smith ran plenty of go routes and posts. The quarterbacks that threw him the ball simply let it go and allowed him to use is elite ability to track the ball down field. Smith is one of the best receivers in the last two or three years when it comes to tracking the deep pass. He is able to perfectly time when to put his hands out to catch deep throws. This allows him to run under the ball and never break stride unless the ball was under-thrown. There were a lot of times when he had to slow down for the ball which cost him a few more long touchdowns.
It is very clear that he has a natural feel for catching the ball over his shoulder. It doesn't matter if the defender is in the area of the ball; he is able to get to the ball first. His jumps are timed perfectly. Having a 39 inch vertical certainly helps as well. Smith was a high jumper in high school and in college.