2015 NFL Draft Spotlight: Washington OLB Hau'oli Kikaha
Turron Davenport | 4/10/2015, 6:30 p.m. | Updated on 4/10/2015, 1:10 p.m.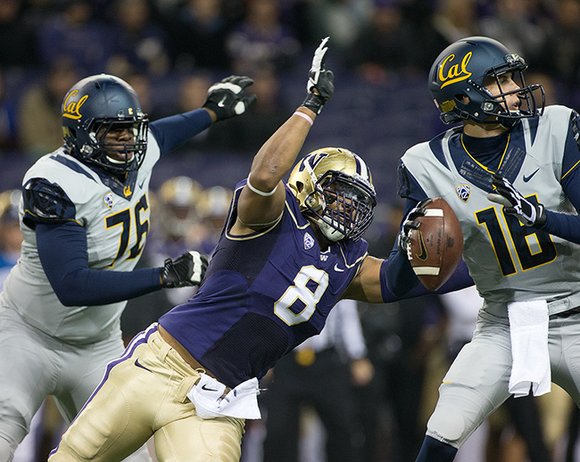 BALTIMORE — The NFL is a passing league. The best way to combat these wide open passing attacks is to get to the quarterback. As a result, a premium is placed on certain positions. One of those positions is certainly an outside linebacker in a 3-4 defensive scheme. The "need for speed" is not limited to wide receivers.

The Ravens certainly have one of the league's best pass rushing duos in Terrell Suggs and Elvis Dumervil. Rest assured they will take a look at some edge rushers in this year's NFL Draft. The 2015 NFL Draft class is stocked with guys that can truly get pressure on the quarterback. None of the players had more sacks than Washington's Hau'oli KIkaha. His 19 sacks was tied with Utah's Nate Orchard for the most in the most sacks in the NFL.
Kikaha is one of the best edge players in this class but there are some injury concerns. He has had two ACL injuries in the past. Kikaha said at his pro day that there have not been any questions about the injuries and he's ready to move on from it. Despite these injuries, his game is primarily built around speed, a high motor and the ability to get a jump on the ball. Kikaha gets a head start because of his ability to anticipate the snap. He can get around the edge very quickly.
The instant push that Kikaha can generate also helps him to set up a pretty lethal spin move back inside to the quarterback. The timing of his spin is perfect and he has used it to cause more than a few linemen to whiff. Quarterbacks are never safe in the pocket when Kikaha is on the field.
His speed and anticipation allow him to force tackles to hurry into their drops. At times, the lineman will lunge at Kikaha when he gets a jump on them. Kikaha bends his body to make it harder for the taller offensive lineman to get their hands on him. It's a lot similar to how bigger receivers are taught to condense their body at the line of scrimmage thus creating a smaller target for corners to jam.
As far as pass rushers go, Kikaha is one of the purest ones in this draft. He is so fast and gets deep penetration. Sometimes he will run by the quarterback but his relentless mindset drives him to continue to chase the quarterback. He gets a lot of effort sacks.
The following video shows how Kikaha doesn't give up on the play and eventually tracks down the quarterback. He gets a good jump and threatens the left tackle's outside hip. His speed off the ball causes the tackle to over commit to his outside, leaving himself vulnerable to an inside move.
Kikaha elects to make a move back inside and take a shorter route to the quarterback. Often times you hear the saying "converting speed to power" when a fast edge rusher evaluation is made. This video is a perfect example of that. The tackle is 305 pounds, almost 50 pounds heavier than Kikaha. Once 305 pounds commits to going in one direction, it is hard for the player to redirect it.