Hillary Clinton launches second presidential bid
Dan Merica | 4/13/2015, 10:30 a.m.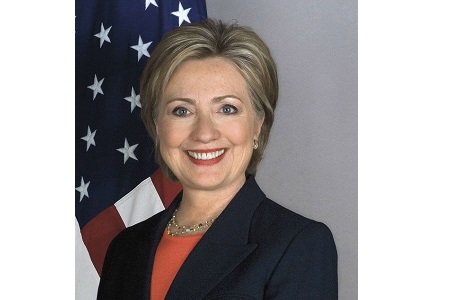 (CNN) — Hillary Clinton put an end to months of speculation on Sunday by officially announcing her candidacy for president, giving the former secretary of state another shot at cracking the highest glass ceiling in American politics.
The initial word came in an email to supporters from John Podesta, a longtime Clinton ally, then a video launched on YouTube and a newly minted Facebook page.
"I'm getting ready to do something too. I'm running for president," Clinton said in the video. "Everyday Americans need a champion, and I want to be that champion -- so you can do more than just get by -- you can get ahead. And stay ahead. Because when families are strong, America is strong. So I'm hitting the road to earn your vote, because it's your time. And I hope you'll join me on this journey."
The video was shot last week, a campaign official told CNN. Clinton's part was shot in New York with the rest of the video shot in places including Iowa and New Hampshire, a campaign official told CNN.
Clinton was at her home in New York for the launch of her campaign. She will be making some calls to top Democrats Sunday, as will her senior staff, according to a campaign official.
Following the video release, the Clinton campaign sent our a press release detailing her next steps.
"She's committed to spending the next six to eight weeks in a 'ramp up' period where her team will start to build a nation-wide grassroots organization, and she will spend her time engaging directly with voters," according to the release. "In May, once her supporters in all 50 states are organized for house parties or to watch over live streams, Hillary will hold her first rally and deliver the speech to kick off her campaign."
She'll travel to Monticello, Iowa on Tuesday before heading to Norwalk on Wednesday, according to a campaign aide.
Clinton's second presidential run is another chapter in a life that has seen the former first lady go from a child raised in a conservative home outside Chicago to one of the most recognizable women in the world. Clinton became a household name in 1992 when her husband, Bill Clinton, won the presidency.
Since then, Hillary Clinton has become a force in her own right, serving in the Senate for eight years, unsuccessfully running for president in 2008 and leading the State Department from 2009 to 2013.
Over the coming months, Clinton's campaign will plot how to reintroduce the former first lady -- on her own terms -- to the American people. Democrats close to Clinton have started to call her the most unknown famous person in the world. Their argument is that people know of Clinton -- she has near 100% name recognition in most polls -- but they don't know her story.
Using small, controlled events with everyday people, the campaign will hone in on Clinton's personal story, using themes such as her Midwestern upbringing, her mother's perseverance in the face of neglectful parents and Clinton's own time raising a daughter to cast the presidential hopeful in a more favorable, softer light than she was seen during much of her 2008 presidential run.