With breast milk online, it's buyer beware
One of every 10 samples bought online was not 100% pure breast milk according to study
Sandee LaMotte | 4/14/2015, 11 a.m.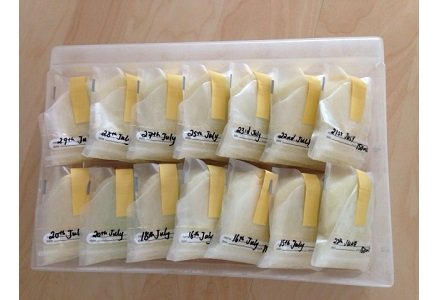 (CNN) — Your great-great-grandmother might have called for a wet nurse. In today's e-commerce world, if you're having trouble breast-feeding, you can easily buy breast milk online and feed your baby yourself.
Ideal, right?
"No, it's quite clear that the risks to your infant's health and safety are significant and appear to outweigh any benefits they might get from breast milk," said Sarah Keim, Ph.D., of the Center for Biobehavioral Health at Nationwide Children's Hospital in Columbus, Ohio.
While breast milk is not regulated by the FDA, a 2010 warning clearly states the government's stance: "FDA recommends against feeding your baby breast milk acquired directly from individuals or through the Internet."
"There are multiple dangers," explains Keim. "One is the risk of infectious disease." She said HIV, hepatitis and syphilis can be transmitted through breast milk.
In fact, a 2009 Stanford University study that screened 1,091 women who wanted to donate their breast milk to a milk bank found 36 tested positive for syphilis, hepatitis B and C and HIV.
"There's also the possibility of the exposure to drugs, prescription drugs or illicit drugs, and those can be very harmful to infants, too," adds Keim.
There's more. In a 2013 study, Keim and her colleagues found 74% of the breast milk they purchased contained staph, strep or other bacterial species.
A follow-up analysis recently published in the journal Pediatrics found one of every 10 of those samples wasn't 100% pure mother's milk. Instead, the donor milk contained added cow's milk or milk-based formula powder.
"If a baby with cow's milk allergy were to drink this milk," said Keim, "it could be very harmful."
If that isn't bad enough, the researchers found the levels of bovine contamination, at 10%, to be too high to be accidental. Simply put, said Keim, the sellers deliberately "topped off" their breast milk, presumably so they could sell more.
Breast milk is 'liquid gold'
The demand for breast milk has exploded in recent years.
The market includes people who believe it boosts their immune systems or builds muscle mass and stamina. Some add it as a "special" ingredient in their cooking. But most of the demand is from parents.
The woman who survived breast cancer, the mom who suddenly loses her milk because of sickness or stress or the couple who adopts a tiny newborn all want to give their babies the best start in life and with good reason.
"Breast milk, because of its immunological properties, can help fight against infections that a baby may be exposed to," said WebMD pediatrician Hansa Bhargava. "It also may protect against allergies, asthma and sudden infant death syndrome."
Moms are being told that selling their excess breast milk could be a lucrative addition to a family's income. On his site, the Penny Hoarder, Kyle Taylor recommends starting a home-based business selling breast milk as one of his "creative ways to fix your budget." The article said that if a mom "sold 25 ounces of breast milk per day at $2.50 an ounce for a year, you'd make almost $23,000. Like this idea? Click to tweet it!"