2015 Draft Spotlight: Arizona State WR Jaelen Strong
Turron Davenport | 4/16/2015, 6:30 p.m. | Updated on 4/16/2015, 5:54 p.m.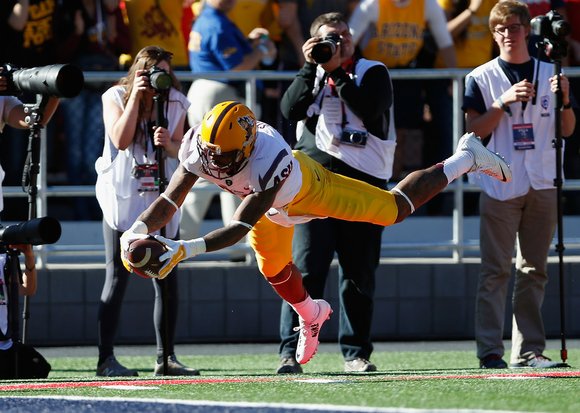 BALTIMORE — The 2015 NFL Draft class offers a variety of styles when it comes to wide receivers. Arizona State's Jaelen Strong is a receiver that is expected to be taken in the bottom half of the first round. Strong has an intriguing skill set that will transfer well to the next level.
Jaelen Strong is a receiver that will be a nice target for whatever team that selects him. His next quarterback will benefit from the large catching radius that Strong presents. Having a vertical that is 42 inches along with a 6-2 frame allows Strong to be a guy that will see some targets even when he has a defender on him. Strong has the mindset that everything thrown his way should be a catch.
"If it is thrown my way, I try to always go get it. I am physical, I try to be dominant and use my huge catch radius."
The release at the line of scrimmage is something that pops out when watching Strong. He is more of a strider but once he gets it into gear, watch out. He can get down the field surprisingly fast and covers a lot of ground with his long strides. There were more than a few times when he flashed the 4.4 speed that he posted at the Combine.
There used to be a time when quarterbacks would not throw the ball to a receiver when he is covered on the sideline. Now the quarterbacks see that as an advantage and throw the ball at the back of the receiver's helmet. Strong refers back to his basketball background as he gets into position to make a contested catch on back shoulder throws.
Catching the football is a natural thing for Strong. His hands are consistent and allow him to make some tough catches across the middle. It is hard to jam Strong, especially when he has to run a slant. He will condense himself at the snap to give defenders a smaller target to jam.
Once he releases off the line, Strong is able to get inside positioning and catch the ball in traffic. He excels at making the catch and stretching it out for more yards. He is able to break tackles using a mean stiff arm and through just having the physical presence to run right through defenders that try to wrap him up. Sometimes, he makes the catch, finds a crease and pulls away from defenders before they can get a hand on him to tackle him.
Teams will use Strong in many ways to score touchdowns in the red zone. They can line him up out wide and let him work various in breaking routes. He can cut down his split and run a fade or corner route that allows him to do what he does best, high point the football.
Strong had an interesting player reference when he was asked about his ability to help teams in the red zone. "I like how Jimmy Graham attacks the ball and boxes the corners out." Strong continued; "The red zone is something that big physical receivers love to be in. I like getting the chance to go up and get the ball."