UMD's Deon Long to showcase at Ravens' Pro Day
Turron Davenport | 4/17/2015, 6 a.m.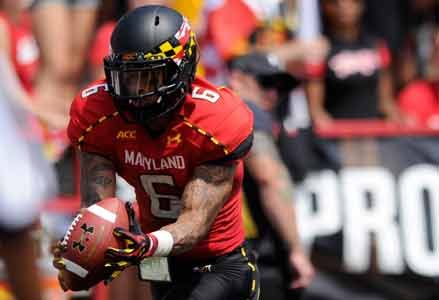 BALTIMORE — The road that Maryland wide receiver Deon Long has traveled up to this point is a very uncommon one. Long has played in multiple college football programs prior to getting ready to enter the professional ranks. The experience he has gained will be something he can lean on as he enters the next stage of his life.
Long is one of the local college football players who will attend the Baltimore Ravens local college prospect pro day, which will be held at the Ravens facility in Owings Mills, Maryland. It will give a number of prospects another opportunity to showcase their skills.
The journey for Deon Long began at Dunbar High School in Washington, D.C. He decided to play football after spending a lot of time boxing, which helped to develop his trademark toughness. It showed him the value of putting in hard work.
Long talked about having to lean on the lessons of hard work that boxing taught him.
"Since day one when I graduated from high school, I always took the extra mile to put the work in. I did what I had to do to get schoolwork done early so that I could go to West Virginia and take part in spring ball," Long said.
Long enrolled at the University of West Virginia in 2010 and spent a short time there. He was not getting the opportunity that the then head coach had told him he would give him. As a result, he transferred to the University of New Mexico. Unfortunately, he had to sit out a year as per NCAA rules.
Mike Locksley, the head coach at New Mexico was fired and numerous players left the program as a result. Long was one of those players but he didn't want to sit out another year, so he followed his coach to Iowa Western junior college. Long discussed his reasons for transferring in a recent interview.
"Regardless, I was going to go wherever he was going. I already knew his offense, I wouldn't have had to put as much time into learning a new offense and I could help teach other players," Long said.
Transferring to Iowa Western was a wise decision. He recorded 100 receptions 1,625 yards and 25 touchdowns in his lone season of junior college football. That one season led to almost 100-division one college football offers. Once again Long's loyalty to coach Locksley factored in another decision that faced the young receiver. .
Long and coach Locksley reunited at the University of Maryland after their successful time at Iowa Western. Coach Locksley became the offensive coordinator at Maryland and he brought along his feature player.
Some may look at the multiple schools that Long has attended as a red flag. However, the many schools are an example of a high character trait— loyalty. Long gave coach Locksley his word and stuck to it, even when bigger schools than Maryland offered him a scholarship.
Going to Maryland afforded Long the opportunity to meet another NFL bound star receiver, Stefon Diggs. The two formed a very close bond.