2015 Draft Prospect: Georgia RB Todd Gurley
Turron Davenport | 4/20/2015, 7:40 p.m. | Updated on 4/20/2015, 7:40 p.m.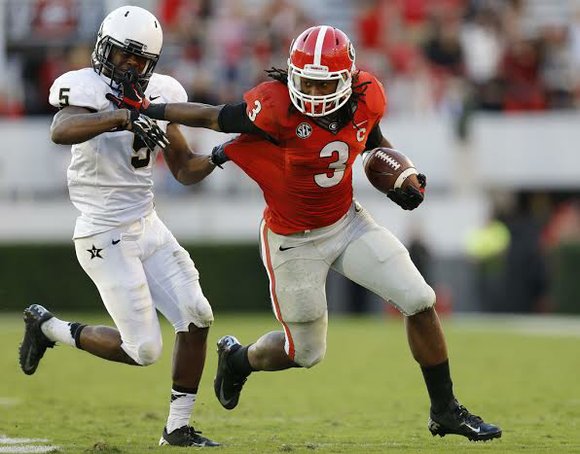 BALTIMORE — It has become a rarity for a running back to be selected in the first round of the NFL Draft. The last time that it happened was 2012. The fact that there is conversation about an injured running back being selected in the first round is a true testament to how outstanding of a prospect Todd Gurley is. Watching Gurley play is a real treat. If you blink, you might miss a run that is highlight worthy. He presents everything that you want in a running back.
Todd Gurley is the total package. He is a true three down player because he can be relied upon in pass protection, catching the ball out of the backfield and even on short yardage. Gurley has breakaway speed but also packs a real punch when he runs the ball. He can run between the tackles or bounce outside. Gurley also has the vision to cut it back and break off a long run.
Coming in and contributing as soon as he is healthy is a goal for Gurley. He feels very confident that being an early contributor is something that he can do. "I feel like I can come in and help a team. I have that confidence in myself." Gurley continued; "I know the way I work and what type of back that I am. I will work as hard as possible to come back and be that guy when I come back. "
There isn't a scheme that Gurley can't fit into. While at Georgia, he ran in some single back sets as well as behind a fullback. Gurley gets his shoulders square as he attacks the line and shoots through the smallest gap with a high degree of acceleration. He knows how to pick his running lanes and make defenders miss or run them over if they happen to be able to fill his running lanes.
Catching the ball out of the backfield is something that Gurley does with ease. He was comfortable running the Texas route, running speed outs and in the screen game while at Georgia. It should be noted that Gurley does have ten inch hands. Georgia made it a point to try to get him the ball on screens numerous times in every game. Coordinators will make it a point to get him at least 25 touches per game at the next level.
Gurley has a muscular frame that is built for being an NFL running back. He is 6-1, 222 pounds and has the ability to hit top speed in a flash. His feet never stop moving and he has superb balance. That allows him to power through tackles even when multiple defenders have gotten their hands on him. Gurley has a Frank Gore like ability to get through the smallest of holes and emerging from the crowd for a big gain.
The power that he runs with makes it harder for lineman to reach out and tackle him with their arms as he runs through gaps. The balance that he has allows him to bounce off of hits and continue the run rather than fall to the ground.