Baltimore seeks answers in Freddie Gray's death
Cell phone video recorded police dragging Gray as he screamed
Ben Brumfield | 4/20/2015, 10 a.m.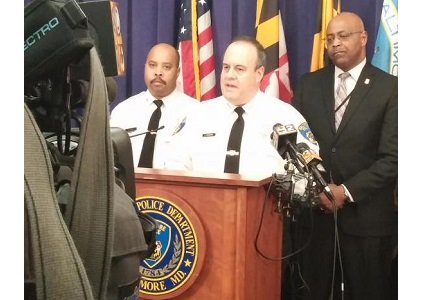 BALTIMORE (CNN) — Freddie Gray was in perfect health until police chased and tackled him in Baltimore over a week ago, his lawyer said. Less than an hour later, he was on his way to a trauma clinic with a spinal injury, where he fell into a coma.
VIDEO: Why did Baltimore police chase Freddie Gray?
On Monday, police may reveal details of what happened to him when they hold a news conference.
Two witnesses hit record on their cell phones during what looked to be the 25-year-old's arrest. Police told CNN affiliate WJZ that they also have surveillance video of him.
But there appears to be a gap of some minutes left to account for in the April 12 incident. Police, according to their own timeline, spotted Gray, gave chase, caught him, cuffed him and requested a paddy wagon in fewer than 4 minutes. The transport van left with Gray about 11 minutes after that, police said, and another 30 minutes passed before "units request paramedics to the Western District to transport the suspect to an area hospital."
Gray died Sunday, a full week after the encounter and just hours after protesters in front of Baltimore police headquarters raised signs and hands in the air and cried, "Justice for Freddie."
Police encounter
When cell phones began recording, Gray was already on the ground with three officers kneeling over him. And he let out long, painful screams.
Officers had encountered him a minute earlier, police said. They were working an area where drug deals and other crimes are common, Deputy Police Commissioner Jerry Rodriguez said.
They thought Gray may have been involved in a crime, but there was no evidence that he committed a crime, Gray family attorney William Murphy Jr. said, and WJZ reported last week that police had not said what their suspicion was.
"Officers were working in an area that is known for violent crime and drug sales. Officers went to make an encounter with Mr. Gray when he fled from them," Baltimore Police Department spokesman, Capt. Eric Kowalczyk, said Sunday.
Pressed on why police initially stopped Gray, Kowalczyk said the department hadn't released that information because investigators are still conducting interviews.
Painful wailing
When officers approached Gray, he ran. They pursued and caught him quickly, at 8:40 a.m., according to a police timeline.
The officers called for a prisoner transport van. Cell phone video taken from two separate positions showed officers lifting Gray, whose hands were cuffed, up by his shoulders and dragging him to the back of the van.
He legs dangled behind him listlessly as he wailed.
Officers put more restraints on Gray inside the van, police said, while surveillance video recorded him conscious and talking. The video has not been released to the public.
The 30 minutes
That was at 8:54 a.m.
At 9:24 a.m., police called an ambulance to pick Gray up at the Western District police station. Murphy wants to know what happened in those 30 minutes in between.
The ambulance took Gray to the University of Maryland Medical Center's Shock Trauma Center.