2015 Draft Spotlight: Alabama RB TJ Yeldon
Turron Davenport | 4/22/2015, 6:30 p.m. | Updated on 4/22/2015, 12:27 p.m.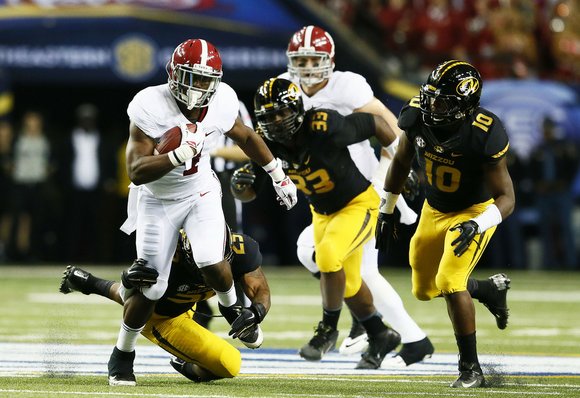 continued — Yeldon has the athletic ability to dive three yards for the score at the end of the run. Capping off a touchdown run with a dive into the end zone is yet another move reminiscent of Ladanian Tomlinson, one of the best red zone runners ever.
Yeldon has an upright running style that is a concern for some. They feel that it contributed to his problems with fumbling the ball. That is something that can be quickly fixed. It's pretty simple, secure the football. There have been numerous backs that had a fumbling issue but corrected it.
As far as blitz pickup is concerned, it is merely another reason why Yeldon is a very fitting third down back. He is a willing blocker and often times, he looked for someone to block on passing plays.
Draft Projection: Late 2nd/Early 3rd
Why should the Ravens consider this prospect?
T.J. Yeldon is a very good fit for the Ravens. He spent three years at Alabama in a scheme that is very similar to what the Ravens will utilize. Yeldon saw success early in his college career and would be called upon to do so in the NFL. He is an all-purpose back that can catch the ball out of the backfield and block for his quarterback.
The Ravens also need another short yardage back. Yeldon brings the ability to grind out tough yards in crowds. He runs upright but packs a nice punch behind his pads and often times; he doesn't go down after the first contact.
NFL Comparison: Ronnie Brown
Like Ronnie Brown, Yeldon has an upright running style. Brown and Yeldon seem to always lean forward when they are running. That forward lean helps them to run through contact. Both of these runners have long, lean bodies that make them look taller than they really are. Brown was also a good option in the passing game which is something that Yeldon can do very well also. Yeldon is actually a little more decisive and gets up field quicker than Brown.