Why I fled: New migrants in Italy share their stories
Karl Penhaul | 4/22/2015, 11:33 a.m.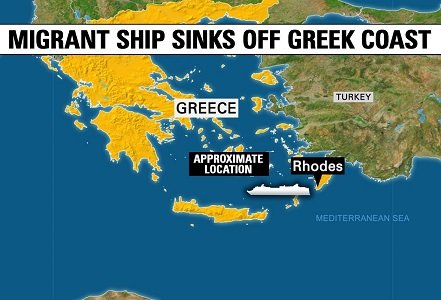 SICILY, Italy (CNN) — They come in their thousands, crammed onto barely seaworthy boats to make the treacherous journey from Libya to Italy.
Before reaching the Libyan port, many have traveled over land, paying people smugglers to clear the way, dodging bullets, knives and attempts to recruit them as fighters.
They've been robbed, beaten and in some cases imprisoned during their desperate attempts to escape life in their own countries.
CNN spoke to three migrants who made it to Italy about why they believed all the risk was worth it.
Mahmoud Shubat, construction worker from Homs, Syria
For Mahmoud Shubat, there was no other option but to leave his four children in Syria to seek a better life for them all in Europe.
"If I stayed Syria, I would have to be part of one party or of ISIS. I'd have to take up arms and kill people. But I don't want that. I only want to take care of my children," he said.
Shubat left his home in Homs 10 weeks ago, paying people smugglers as he made his way to Italy, first by car across Turkey, then by boat from Turkey to Libya. In Libya, he boarded another boat crammed with around 300 migrants determined to reach Italian waters.
At each stage of the journey, Shubat said he paid people smugglers, who would then put them him in touch with the next group who would demand further payment to take him on.
Shubat said he had no doubt that the traffickers he dealt with in Libya were connected to political armed militas. As they were about to leave the Libyan port, he said the people traffickers in charge allowed a gang of armed militias to board the boat and rob them all.
"They wearing masks and they had guns. They searched us one by one looking for money and gold," he said.
Shabat was one of the lucky ones. His boat did not sink or capsize. As soon as the boat and its desperate cargo reached Italian waters, they were escorted to Sicily by the Italian Navy.
The entire journey cost Shabat $7,600, a fortune for the construction worker who says he just wants to earn enough money to bring his family, still trapped in Syria, to Europe.
"I want to be reunited with my family. If I can find a job I can send money to them. They have nothing," he said.
Esayas Nisque, 18, student from Senafe, Eritrea
For Esayas Nisque, home is a small town in Eritrea, a few hours walk from the Ethiopian border.
Most of the local men leave to find work in other countries. Few want to stay in Eritrea, he said.
"As soon as you finish school and are not learning then they want to make you a soldier."
Nisque's journey to Europe took him by way of a refugee camp in Ethiopia where he lived for six years, before heading to Libya and making the treacherous journey to Italy by sea.