Why I fled: New migrants in Italy share their stories
Karl Penhaul | 4/22/2015, 11:33 a.m.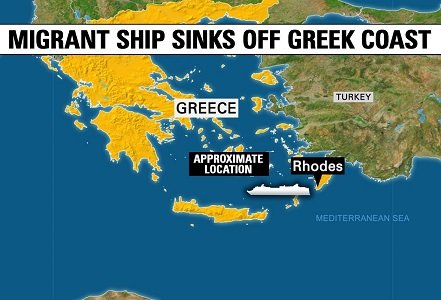 continued — From Ethiopia, Nisque walked for four days before catching a bus to Sudan. From there, he took another bus to Libya where he stayed for almost a year. During that time, he said he was kept prisoner with hundreds of other men in a small house guarded by "Libyan soldiers."
The guards forced their prisoners to sleep at certain times, did not permit them to wash and only gave them limited rations, he said. Those who dared to disobey were given electric shocks.
"We were 250 men in one small house. No wash. Food was not enough. If you stand up electric shocks," Nisque said.
Nisque said his father sent him the $1,800 he needed to pay people smugglers for the trip across the Mediterranean from Libya to Italy.
The boat, carrying around 500 people, left Libya early one evening three weeks ago; it didn't take long for the unstable craft to start taking on water.
"Journey not good. The boat opened up and we were a short [distance] from Italy and a helicopter came to help us," Nisque said.
The helicopter belonged to the Italian coastguard. Soon after, a cargo ship arrived and rescued all on board.
Nisque now wants to get to Rome to meet his brother, who is also an undocumented migrant with no work or money. The teenager's dream is to eventually get to Sweden.
Of Italy, he said: "Italy no good. No work, no money," but in Sweden, he said his friends have told him, life is good.
Grymay Tesfamical, 18, a Christian student from Eritrea
Grymay Tesfamical lifts his shirt to show a scar on his back, the mark of the bullet he dodged.
The 18-year-old former student said he was traveling with a group of fellow Eritreans on two buses when they were intercepted by 10 armed ISIS fighters, just south of Tripoli.
"Two buses were surrounded and they were looking for Christians and Muslims. They put Muslims here and Christians over there. That was Da'esh in Libya," Tesfamical said.
By the roadside, the ISIS fighters beheaded 20 people, Tesfamical. He said he ran, feeling the sting of a bullet as it grazed his back.
"In Libya it was very very dangerous. If you have this," he said, clasping the crucifix around his neck, "it means this," gesturing to suggest a knife slicing his throat.
Tesfamical said he fled Eritrea one year ago to avoid compulsory conscription. He took a route via Ethiopia, through Sudan before arriving in Libya by bus.
He said in Libya, Christian migrants were routinely beaten and denied food and water. From there, he too fled on a boat bound for Italy, in search of a safer, better life.
The-CNN-Wire
™ & © 2015 Cable News Network, Inc., a Time Warner Company. All rights reserved.