2015 Draft Prospect Spotlight: Miami WR Phillip Dorsett
Turron Davenport | 4/23/2015, 6:30 p.m. | Updated on 4/23/2015, 2:15 p.m.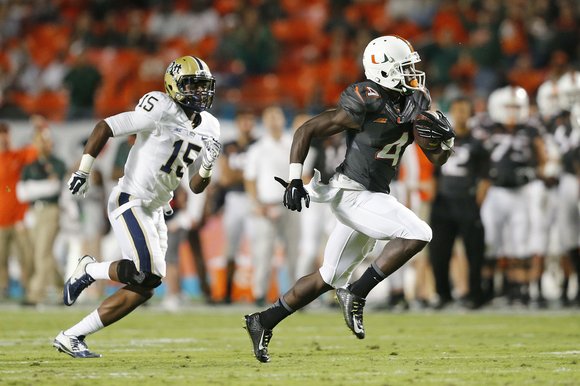 BALTIMORE — All of the attention that has been placed on the 40 yard dash at the NFL Scouting Combine has made more and more people focus on a prospect's track speed. There are some prospects that can run a fast 40 yard dash but don't have the ability to transfer that speed onto the field. Miami wide receiver Phillip Dorsett is certainly not one of those players. He plays just as fast as he times. His speed truly shows up on the field.
NFL teams are always looking for that field stretching wide receiver that will make defenses always have to account for them with a safety over top. It's nice to be able to dictate coverages with speed and it opens up a lot of things. Dorsett is a player that commands attention because of his deep threat ability.
Dorsett is most dangerous from the slot position. He has the unique ability to be a serious vertical threat from the slot. A lot of the slot receivers today are smaller, shifty guys that can get open in a hurry because of their quickness. Dorsett pierces defenses on three routes from the slot position; the post, corner and nine route.
He uses his speed to simply run right by defensive backs. The quarterback is able to throw the ball to a spot after taking a short drop while Dorsett is still in his initial route stem. Defensive backs are hesitant to press Dorsett at the line so often times, he gets a free release and eats up the cushion quickly.
The respect that defenders have for his speed causes them to bail out when he comes off of the line of scrimmage. This makes it easy for Dorsett to throttle down and run a comeback or curl route. Dorsett is good at making his deep routes look the same as his other routes so when he wants to break off of the deep pattern, he can get open easily.
Some look at his size and feel that he isn't suitable to impact the game from a true X position. Watching his film at Miami will show that he has gotten quite a bit of experience lining up on the ball and getting vertical. Dorsett's game against Florida State showed how he can beat press coverage on the outside.
On the outside, Dorsett knows how to get open by not only using his speed but using his explosiveness out of his breaks. When the two are combined, it is very hard to cover him out on the island. Dorsett knows how to give that slight lean outside before sticking his foot in the ground and accelerating to the post.
When talking to Dorsett, it's very evident that he has a thorough understanding of how to play the position. He talked about how he attacks defenders when he is lined up at the X position. "There's a lot of work that goes into going outside and then transitioning inside. I played both at Miami so just winning on releases and techniques." Dorsett said; "Being a fast guy, you can't just go out there and just run. They will try to push you wide. It's all about using your hands, your releases, stacking the guy and winning with speed."