America's transgender moment
A TV interview with Bruce Jenner, to air Friday, may add to the conversation
Brandon Griggs | 4/23/2015, 2:30 p.m.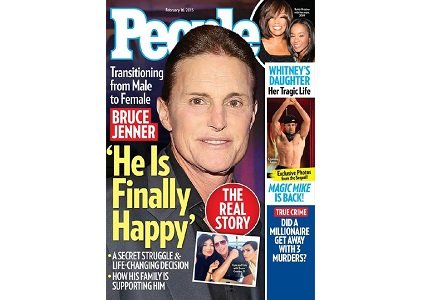 (CNN) — It's only April, but 2015 may be remembered as the year the term "transgender" fully entered mainstream consciousness.
In January, President Obama condemned the persecution of "people who are lesbian, gay, bisexual or transgender," becoming the first president to utter the word in a State of the Union address.
"Transparent," about an aging father who begins living as a woman, won two top awards at the Golden Globes, while transgender actress Laverne Cox of "Orange is the New Black" -- who made the cover of Time magazine last year -- was just cast in a new CBS drama.
The May issue of Vogue has a photo spread with transgender model Andreja Pejic, who said on Instagram this week that she "was told by various people many times over that the chances of me ending up on these pages were slim to none." A transgender character had a recurring storyline on the just-wrapped final season of "Glee," while transgender activist and YouTube star Jazz Jennings will star in a reality show debuting on TLC this summer.
And then there's Bruce Jenner, whose physical appearance has become more feminine in recent months amid reports -- yet to be confirmed or denied by him -- that the Olympic hero turned reality TV star is exploring a very public gender transition.
We'll learn more Friday night, when Diane Sawyer's long-awaited interview with Jenner -- conducted in February -- airs on ABC.
Whatever Jenner says it's clear that transgender people, long relegated to society's shadows, are finally stepping into the light.
"We are at a social inflection point on transgender issues," says Riki Wilchins, a former transgender activist and author of three books on queer theory, who believes all the attention could have a positive impact. "Civil rights for minorities come in fits and starts. We're on an upswing now."
Defining gender fluidity
Transgender is an umbrella term for people whose gender identity -- their internal, personal sense of being a man or a woman -- differs from what's typically associated with their sex at birth. Some transgender people alter their bodies through hormones and or surgery, although many don't.
A 2011 study estimated that 700,000 American adults, or roughly 0.3% of the population, identified themselves as transgender.
For decades, trans people, as many transgender people like to be called, rarely saw themselves represented in popular culture. But recent years have brought the "Dancing with the Stars" contestant Chaz Bono; filmmaker Lana Wachowski, formerly known as Larry Wachowski, a co-director of "The Matrix"; Jared Leto's Oscar-winning role in "Dallas Buyers Club"; and of course, "Orange is the New Black," whose cast is a mix of ethnicities and sexualities.
Now, between "Transparent" and other shows, recognition from Obama and tabloid headlines about Jenner, the national conversation around gender identity appears to have reached a new level.
All this makes transgender advocates cautiously optimistic.
Hayden Mora, deputy chief of staff at the Human Rights Campaign and a transgender man, remains hopeful that the growing number of transgender faces beaming weekly into America's living rooms can only have a positive effect.