Freddie Gray death: Protests grow; cop union compares them to 'lynch mob'
Police union: "The images seen on television look and sound much like a lynch mob"
Holly Yan | 4/23/2015, 9:35 a.m.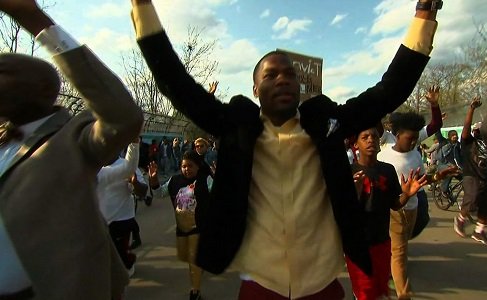 continued — But Davey said officers had every right to chase Gray.
"There is a Supreme Court case that states that if you are in a high-crime area, and you flee from the police unprovoked, the police have the legal ability to pursue you, and that's what they did," he said.
"In this type of an incident, you do not need probable cause to arrest. You just need a reasonable suspicion to make the stop."
Gray was arrested after police found what they said was a switchblade on him. An attorney for Gray's family has said the knife was a pocket knife of legal size.
Baltimore police have released the names of the six officers involved: Lt. Brian Rice, Officer Caesar Goodson, Sgt. Alicia White, Officer William Porter, Officer Garrett Miller and Officer Edward Nero.
But the department said it will not release personnel records or photos because doing so would violate the law.
'His leg look broke!'
One video of Gray's arrest shows officers dragging him to the paddy wagon, his legs dangling limply behind him.
"His leg look broke!" a bystander yells as a witness captures the arrest on a cell phone video.
That witness, who only wants to be identified as Kiona, said she knew Gray as a joker and a ladies' man. But that day, he said only one thing to her.
"When I ran up the street and seen him, the first thing I asked him was he OK because I heard him screaming," Kiona said. "He didn't never say yes or no, he just said 'I can't breathe' and just was yelling."
Former Baltimore Police Commissioner Leonard Hamm said he was disturbed by video of the arrest.
"What I see is a person in distress, and what should have happened is at that point, they should have called for medical attention to help him out," he told CNN's "New Day" Thursday morning.
Hamm led the department from 2004 to 2007. He said he was surprised and disappointed by what has happened.
"I thought we were better than that," he said. "I thought we were better trained than that."
It's not clear whether Gray's leg was broken when he was arrested. His family has not seen the autopsy report yet, attorney William Murphy said.
The medical examiner's office told CNN it could take up to 90 days to release the report, which is typical.
Police, Justice Department investigate case
The Baltimore Police Department is investigating what happened and will turn over its finding to the state attorney's office May 1, the department said.
"As with any criminal investigation, detectives will continue to pursue the evidence wherever it leads, for as long as it takes."
The Department of Justice is also investigating whether Gray's civil rights were violated during the April 12 arrest.
And Baltimore Mayor Stephanie Rawlings-Blake said she "absolutely" believes an outside investigation is needed, especially given the city's dark history of police misconduct.
According to The Baltimore Sun, the city has paid about $5.7 million over the past four years to settle more than 100 cases of allegations of police wrongdoing.
Police didn't admit fault in any of the cases. The police union said in a statement Wednesday that the reason for the settlements was simple: City officials believe lawsuits are too costly.
CNN's Eliott C. McLaughlin, Catherine E. Shoichet, Kevin Conlon and Dana Ford contributed to this report.
The-CNN-Wire
™ & © 2015 Cable News Network, Inc., a Time Warner Company. All rights reserved.